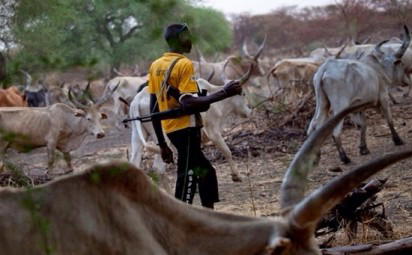 herdsmen
By Luka Binniyat,    with agency report
KADUNA—The death toll from the invasion of Godogodo in Jema'a Local Government Area of Kaduna State, between last Saturday and Sunday, has risen from 20 to 40, according to sources from Southern Kaduna Peoples Unions, SOKAPU, the umbrella body of the 67 tribal groupings of Southern Kaduna.
However, Kaduna State Police spokesman, ASP Usman Aliyu, told Vanguard that he had not been informed of any figure higher than the Sunday figure of 20, but agreed that the casualty figure could be higher.
Meanwhile, a mob attack on herdsmen in Kaduna left no fewer than 14 persons "hacked and burnt" to death.
A commercial bus driver, Adamu Aliyu, told newsmen yesterday: "I was returning from Plateau State with eight passengers, all of them Fulani herders. My bus broke down in Kaduna State, so I left it to go search for a mechanic.
"While I was away, a mob surrounded the vehicle and forcibly brought out the eight passengers. They hacked them to death, dumped them in the vehicle and set it ablaze.
"Another vehicle was also attacked, when it stopped to refuel and all the six people were burnt to death along with the car."
Aliyu said a riot broke out in the streets, with soldiers and policemen finally intervening to contain the carnage.
Casualties figure
On the casualty figures, following the invasion of Godogodo, a youth leader, who did not want his name mentioned, said: "On Sunday, we were able to get 20 corpses.
"But after the attackers were chased out this morning (yesterday), we went into the town and recovered badly burnt corpses.
"We retrieved corpses that were so badly burnt that you would not know if they were males or females. We now have about 40 dead persons. There could be more, because we are still searching."
A statement by SOKAPU, through its leader, Dr. Musa Solomon, in Abuja, yesterday, read in part: "The entire people of Southern Kaduna have been totally neglected by the authorities at the Federal and state levels and left to be destroyed by enemies."
It called on the Federal Government and Kaduna State government to set up permanent security formations in the area to curtail "the senseless killings."