By Kelechi Okoronkwo
Since the global economic meltdown in 2008, the worst financial crisis that has hit the world since the Great Depression of the 1930s, tax administrators in Africa have pondered on the best route to refloat and stabilize African economies.
Globalization has intertwined the economies of African countries with the world's.
Africa was hard hit. For the continent, it was a survival question. After a rescue International Conference on Taxation, State Building and Capacity Development in Africa held in Pretoria, South Africa from 28 – 29 August 2008, one of the first steps taken by Commissioners, Senior Tax Administrators and Policy Makers from 28 African countries was to work towards the establishment of an African Tax Administration Forum. Their aim was to create a platform to promote and facilitate mutual cooperation among African Tax Administrations and other key stakeholders to improve the efficiency of their tax legislation and administration.
In 2009, ATAF was launched in Kampala, Uganda. Nigeria—with the FIRS, under the leadership of its former Executive Chairman, Ifueko Omoigui Okauru, a key player in the birth of the association.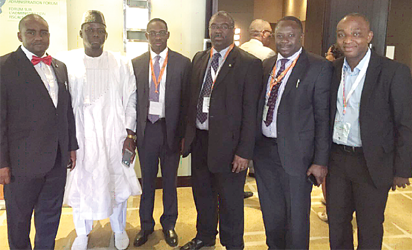 Mr. Oupa Magashula, the then Chairman of the South African Revenue Authority (SARS), became its first Chairperson. The Commissioner General of Zimbabwe Revenue Authority, Mr. Gershem T. Pasi, whose tenure ended on two Wednesdays ago, succeeded Mr. Magashula.
The great ideas that worked for ATAF over the years notwithstanding, African economies struggled. Though blessed with abundant natural resources, Africa remained the poorest continent.
What then could the problem of Africa be and 'whence cometh' her help? But the African leaders are not resting on their oars. They have kept searching for solutions: organizing conferences and workshops and brainstorming on how to pull the continent out of the worst stage of recession through taxation.
Last month, the Executive Chairman, Federal Inland Revenue Service (FIRS), Mr. Tunde Fowler, who was hitherto, a Council Member of ATAF, was called upon to speak to Chief Executives of African Tax Authorities at the African Tax Administration Forum and International Monetary Fund (ATAF-IMF) seminar in Cape Town, South Africa.
The theme of the seminar was on Board Governance in African Revenue Authorities and Fowler shared his experience on how to make taxation work for Africa. Fowler's message was well received. He gave hope to African taxmen, painted a bright future of tax administration in Africa, stating that the continent holds much more revenue generation prospects.
Citing his experience in Nigeria, Fowler urged African leaders to grant autonomy to their Revenue Authorities as this will strengthen the tax institutions and prime them to generate more revenue for their countries.
Three months ago, a delegation of the West Africa Tax Administrators Forum (WATAF) paid a courtesy call on Mr. Fowler, requesting that the regional body needed to understudy FIRS given the tremendous progress he is making in FIRS, the economic crisis in Nigeria notwithstanding.
Fowler told WATAF chiefs that they needed to rethink, retool and come up with fresh strategies. "It is clear by all terms that Africa is blessed with natural resources but it still remains the poorest continent on earth. African currencies are not strong. Unfortunately, many African countries are highly depended on the trade on natural resources. We do not produce so much therefore, we find ourselves in a vicious circle. Governments cannot fund themselves through taxation so they cannot provide services and infrastructure that will support business", he said.
At the ATAF workshop on Transfer Pricing, the FIRS Chairman spoke along the same lines. "Our job basically is to collect all revenue due to government and make sure that we fund our governments so that they can provide conducive environment for businesses to thrive. The main focus we should keep at heart is that we work for the people of our various countries. So, we should, please take advantage of this opportunity so that we can make a positive impact. It is now time for African Tax Administration Forum to take its rightful place so that in any international conference, ATAF will make a positive impact", Fowler said.
About two months ago, Tax administrators in Africa are in awe on how FIRS is able to pull through on revenue generation in Nigeria in the face of dwindling oil prices and low tax rates.
Last month, the Chartered Institute of Taxation, Ghana (CITG) invited Fowler to speak to tax chiefs from Ghana, Sierra Leone, Nigeria, Cote D'ivoire and other parts of the West African sub-region and beyond on the topic, "Strategies For Revenue Mobilisation, in Contemporary Times: Challenges in Tax Legislation". The Ghanaian Institute gave him an award as an Honourary Fellow of CITG for his contributions to the tax institute.
In the CITG presentation in Accra, Fowler underscored how continuous review of tax laws, creative communication and psychological approaches in engaging taxpayers as well as political will from political office holders could help tax administration in Africa.
But his simple connect between tax payment of as little as N5,000, and the saving the life of a child from death was resonant as the FIRS Executive Chairman spoke.
Said Fowler: "When you ask people to pay tax, they ask you: 'Why?' But when you tell them that a tax of N5,000 is enough to save a child from dying from malaria, their attitude about tax begins to change gradually. As a tax administrator, you have to become a teacher to save the life of a child.
"The point is that as tax administrators, we must see the work that we do, not just as another job, but as nation building. Tax collection is nation building. It is serving your nation. It is serving God. When you convince a taxpayer that the tax he/she pays could save the life of a child who has malaria from death, you could begin to touch the taxpayer's heart.
"We can still do a lot with the laws we have now. Before the law changes, tax administrators, need to wear the hat of a teacher, a psychologist, a friendly person and a firm upholder of the law.
"I urge all of us stakeholders to be conscious of our roles in ensuring that Africa catches up with the rest of the world in moving away from dependence on resource revenue towards dependence on taxation as the primary source of funding for our development.
In Nigeria, Fowler, who is also the Chairman of the Joint Tax Board (JTB) despite economic challenges, gave himself a high target of leading FIRS to generate N4.957 trillion in 2016; out of which N4.94trillion will come from non-oil taxes while only N800 billion is expected to come from Oil taxes.
Beyond question, Fowler is an inspiration to tax administrators in Africa. It did not come as a surprise that ATAF, two Wednesdays ago, voted Fowler, 14 to 4 votes, to become the 3rd Chairperson of the continental tax body.
Fowler is the third Nigerian to head the association.
However, Fowler is not oblivious of the enormous responsibility that is attendant with his election. He assured African tax chiefs that he will not betray the confidence reposed in him by the tax body as he identified his priorities in the next three years.
In his acceptance remarks, following his election, Fowler told heads of tax administrators that his priorities will include: robust exchange of programmes to build capacity for member-states, renewed membership drive to increase numbers of members and make active dormant members, especially from North Africa, secure continued support of ATAF Development Partners and to consolidate ATAF's collaboration with international and regional multilateral bodies.
"Be assured you have made good choice. I shall not disappoint you", Fowler said in his acceptance speech.
He told representatives of 38 member-countries of ATAF and stakeholders across the continent, in South Africa that ATAF needed to be strengthened in order to adequately face the challenges of economic downturn in African countries.
"Our organization must be strengthened to remain relevant and provide support to members as they grapple with the peculiar challenges facing tax administration in the current global economic downturn which is putting governments under severe pressure in both the developed and developing countries. The times we are, makes the job of the revenue collector, most arduous"
"At such challenging times for tax administrators, I shall be preoccupied with accomplishing, working the members of the Council and member countries and the Secretariat over the next two years: improve the funding available to support the lofty plans ATAF (Trainings, Technical assistance and staff exchange programmes, etc) has towards assisting members improve their capacities to collect the revenue our governments require to improve the wellbeing of Africa's teeming populace. We will intensify membership drive–to increase numbers of members and make active our members, especially our brothers from North Africa and secure the continued support of our Development Partners", Mr. Fowler said.
Fowler said he would work with his team to consolidate ATAF's collaboration with international and regional multilateral bodies.
The FIRS boss, who is also the Chairman of the Joint Tax Board and now ATAF Chairman (the first Nigerian to head ATAF), could be rightly called a tripple Chairman and the No 1 Taxman in Africa. He emerged the winner of the keenly contested election during the Forum's 4th General Assembly meeting in Durban, South Africa. Before his election, he was a Council Member.
ATAF announced the FIRS Chairman's victory on its twitter @ATAFtax handle thus: "Mr Babatunde Fowler, Chairman of the Federal Inland Revenue Service of Nigeria elected ATAF Council Chair 2016-2018"
By his election, the FIRS Chief Executive will preside over the affairs of the Forum till 2018.