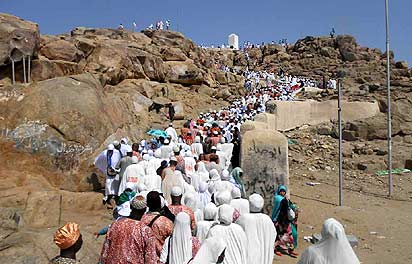 *Ogun Pilgrims at Mount Jabalithaor one of the holy sites in Makkah
By Levinus Nwabughiogu
ABUJA-President Muhammadu Buhari has expressed Nigeria's solidarity with the Kingdom of Suadi Arabia in the aftermath of the ballistic missile launched by Houthi militias targeting the holy city of Makkah.
The president made the expression when he spoke with King Salman bin Abdulaziz Al Saud of Saudi Arabia in a telephone chat on Sunday.
Condemning the heinous act which he said targeted innocent people, President Buhari said "it is reprehensible and ignoble for terrorists to target a holy land, where millions of Muslims from around the globe gather for pilgrimage."
The President however appreciated Almighty Allah that the Saudi defence forces intercepted and downed the missile 65 km from the holy city of Makkah.
President Buhari reiterated the need to strengthen international support and coalition in the fight against terrorism and violent extremism, noting that "when the world stands together, there is no way good would not prevail over evil."