The Nigerian journalist, Ahmed Salkida, who was declared wanted along with two others-Ahmed Bolori and Aisha Wakil-by the Nigerian Army over Boko Haram's latest video, has been arrested by the security operatives.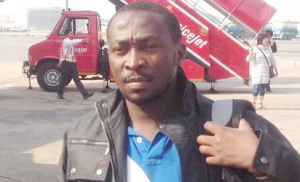 Salkida who arrived the Nnamdi Azikiwe International Airport aboard Emirates flight EK 785 was arrested in Abuja on Monday from the door of the aircraft.
However, following a conversation between him and a passenger on-board the flight, Salkida had said that he knew he would be arrested because he had been declared wanted by the State Security Service (SSS).
I recognized the journalist from photos posted on the Internet and engaged him in conversation throughout the seven-hour flight, said the passenger who sat next to him during the journey.
She said Mr. Salkida told her that he expected to be arrested upon arrival because he was traveling with an Emergency Travel Certificate (ETC) and that the State Security Service (SSS) was aware of his coming. He expressed fear that he would not be given a fair trial and accused the government of pronouncing him guilty without trial.
He also said he didn't know the whereabouts of the missing Chibok girls as claimed by the Nigerian army.
However, he admitted to receiving two video clips from Boko Haram before they were released to the public. He said Boko Haram had confidence in his objectivity as an investigative journalist, having previously interviewed Mohammed Yusuf, the founding leader of Boko Haram.
Recall that barely a day after being declared wanted by the Federal Government for alleged association with Boko Haram terrorists, Ahmad Salkida, has said he should be commended for making sacrifice to free the Chibok girls rather than being labelled an accomplice.
Salkida has been living in the Middle East since the outbreak of the Boko Haram crisis and is believed to have close on Monday said he had commenced preparations to return to country to honour the invitation.