By Favour Nnabugwu
The Minister of Power, Works and Housing, Babatunde Raji Fashola, SAN has chided Federal Controllers of works and Housing on the need to wake up to their responsibilities of being drivers of the Ministry's mandate.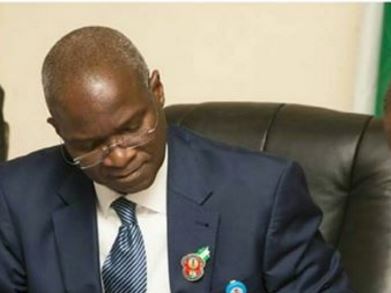 Fashola at a meeting between the Minister, Minister of State, Permanent Secretary, Directors of the Ministry with Federal Controllers of Works and those of Housing, together with the Management and State Commanders of the Federal Road Safety Commission (FRSC) in Abuja, weekend, admonished the controllers to take their duties as a call to serve the interest of the masses.
Fashola stated that the purpose of the meeting was to share information, as well as build cordial working relationship between the Federal Road Safety Commission and Federal Controllers of Works and Housing in the states on how to meet up with challenges confronting the road and housing sectors.
Fashola stated that maintenance of road and housing rests at the door steps of the Federal Controllers in their respective states, hence they must strive towards building sustainable working relationship with all the stakeholders by adopting proactive strategies towards sensitizing their host communities in the area of Right of Way management because through the collective responsibility, the Right of Way could be recovered back.
The Minister also implored the Federal Controllers particularly from Works sector and officials of FRSC to work harmoniously to ensure that all Federal highways across the nation are safe and in good motorable conditions all year round. He furthermore, urged the Federal Controllers to restore all kilometer signages, directional signs and to ensure that broken down vehicles are cleared from the highways.
Having promised that adequate provisions will be in place to facilitate their work, the Minister implored the Federal Controllers to channel their requests through the Permanent Secretary. He added that "Leadership by Project Management" will be adopted in measuring the performance of each Federal Controller.
In his remarks, the Minister of State for Power, Works and Housing, Hon. Mustapha Baba Shehuri challenged the Federal Controllers to, at all times, work in collaboration with the FRSC, state and local governments, as well as other security agencies within their respective domains.
Contributing, the Corps Marshal, Federal Road Safety Commission, Mr. Boboye Oyeyemi disclosed that the maximum designed axle load for Nigerian roads is 10.5 tons/axle, or 16tons/ axle, but the problem the Commission is facing in this direction is that these set limits are indiscriminately violated trucks and tankers alike on the altar of maximizing profit.
Boboye also informed the meeting that some contractors make use of their countries' road signs and signages without recourse to our language and highway codes. He further identified indiscriminate parking on the highways as a major challenge being faced by the Commission. He therefore, solicited for the co-operation of the Federal Controllers in checkmating road abuse.