By Tony Eluemunor
"After the rain comes sunshine", so the saying goes. Samuel Rutherford ( 1600 – 29 March 1661), a Scottish Presbyterian pastor, theologian and author, and one of the Scottish Commissioners to the Westminster Assembly)  put even in better perspective: "After winter comes the summer. After night comes the dawn. After every storm, there comes clear, open skies".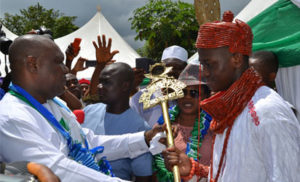 Yet, like in everything else, the Bible has the last word: There is a time for everything, and a season for every activity under the heavens:   a time to weep and a time to laugh, a time to mourn and a time to dance". Of course, you know that came from the Book of Ecclesiastes.
These sayings came true in Ubulu-Uku, Aniocha LGA of Delta State from Saturday the 3rd to Friday the 9th of September 2016; thefigurative sunshine burst forth with boundless splendor as the people cast off their mourning clothes which were forced on them with the kidnapping and killing of their king, the late HRH Obi Agbogidi, Edward AkaeziOfulue 111 (may his gentle soul rest in perfect peace).
This time, there was a celebration, a veritable carnival really, as a new monarch, Obi Chukwuka Noah Akaeze 1, received the Staff of Office from the Delta State Government, showing irrefutably that he had succeeded his late father on the throne. He was, in effect, taking his place in the circle of life.
Obi Akaeze's story is the stuff of legends.  This young lad who was born on the 8th of July 1998 in London, England, became a king of one of the largest towns in the entire Delta State even when, as a newspaper Editor pointed out to me, he was a minor and so hardly even qualified to have a driver's licence. I told that Editor that the people of Ubulu-Uku  have given him every  licence to be King of his town!  The licence came at his birth; he was just waiting for the dice to roll.
The veritable EzeNwata (Igbo for youthful king) had his primary school education at the aptly named (at least for him) Kings School, Rochester, and attended Rochester Grammar School for his Secondary School education … up to his Higher School certificate Sixth forms.
When last the Obi was in Nigeria, he was still studying for his Higher School Certificate, and he had come to bury his father. Then, the entire country was mourning with him as the entire Nigeria was scandalized by the kidnapping of his father that ended in his being murdered. Up till now, the Police still owe it a duty to Nigerians to produce those kidnappers and murderers so that justice would be seen to have been done.During that visit, even as the tears flowed, the Obi was traditionally enthroned King according to Ubulu-Uku custom on the 18th of February, 2016.
Yet, it was not until on June 28th 2016 that the Delta State Executive Council, on its 18th meeting, approved the enthronement of Obi Chukwuka Noah Akaeze 1 as the undisputed monarch of Ubulu-Uku Kingdom, and communicated same to him vide a letter, No. CH. 202/Vol 111/48 of July 28th, 2016. That recognition enabled the the government to present the Staff of Office to him on Monday, 5th September 2016.
That day, Asaba, the Delta State capital was emptied of its executive, legislative and judicial officers including even the top echelon of the Civil Service as well as the private sector.  His Excellency, Dr. Arthur IfeanyiOkowa, as represented by Deputy Governor  KingsleyBurutuOtuaro, presented the Staff of Office.
To receive them, Ubulu sons and daughters, including this reporter, had poured into the town from every corner of the globe. It was not only to register their disgust at the way the late Obi met his end, or to show solidarity with the new Obi, or to thank the Delta State Government for the prompt handing over of the Staff of Office, though it was all of the above, yet that unprecedented rally for a common cause meant much more that those listed reasons.
There was something else in the air; something intangible, something magical, something not easily put into words. It was as though they were defying death itself, including the angels of death who had mocked their own being a part of the human family by suggesting in anyway, their lack of sensitivity at the dastardly manner the late Obi had died.
Such people shunned the light of public discourse in the mainstream media and hugged the nether world of the hate-filled outer regions of the unregulated social media where hurling unbridled was a source of misguided pride. But if such people never read John Donne (If a clod be washed away by the sea, Europe is the less, as well as if a promontory were, as well as if a manor of thy friend's or of thine own were: any man's death diminishes me, because I am involved in mankind, and therefore never send to know for whom the bells tolls; it tolls for thee." From the Poem, "For whom the bell tolls").
Such people showed the tyranny of the stupid and misguided mob. Who will tell them that even TIME magazine dwelt on this in a June 2016 cover story entitled "why we are losing the internet to the culture of hate".  TIME was worried that some people "are turning the web into a cesspool of aggression and violence", and hatred plus lies, I must add.
The Monday presentation of the Staff of Office by the Deputy Governor, His Excellency Barr. Kingsley BurutuOtuaro, was supposed to be the highlight of the activities, but it was just the beginning. On Tuesday, there was an outpouring of persons and affection as the people came to the palace grounds to pay homage to their new king. It was a chance for many to have their first glance of him, because their nasty events that led to his coronation did not allow his being presented in public or a public jubilation for that matter.
Wednesday, 7th September, witnessed a well-attended standing room only interdenominational service.
Monday, Tuesday and Wednesday were three days of carnivals at the palace grounds. The youths refused to leave the palace grounds as though they were saying to all and sundry; Ubulu-Uku is our town, Obi Akaeze 1 is our king. Even as laughter abounded, many were still, once in a while, teary-eyed as they remembered the late immediate king.
This reporter was guilty of this sin; as he greeted the late Obi's brothers, his eyes would often mist up; when it happened again on Thursday evening, he knew it was time to withdraw – for no one really had the right to allow the wrong emotion to have the better of him on such a resplendently momentous occasion.
In February, Obi Akaeze 1 was in secondary school, but he received the Staff of Office as a London University Law student, while a regent, his father's immediate younger brother, Anthony, acts for him as a regent. Prince Donald NzekwueOfulue had asked me to come meet the "EzeNwata" that Thursday evening.
I declined, knowing it would be inexcusable to fail to control my emotions, for at that very moment, my mind had had a flash back: when the immediate past Obi's father, Obi Ofulue the 11 was asking me to take care of Akaeze( who died as Obi Ofulue 11), in school as he had just been admitted into St.
Anthoniy's College Ubulu-Uku,  I was in form three or form four then. The Prince and I were beside an enlarged picture of the immediate past king. I was thinking of both Akaeze and his father; there was something unforgettable about Obi OOfulue 11's voice – his  baritone was more engaging than that of James Earl Jones intoning "This Is CNN".
Hey, is there not supposed to be a time and season for everything under the heavens? There must be a time to cry and a time to laugh. For Ubulu-Uku, early September was a time for celebration, rejoicing magnified, and dirges had to disappear and echoes of festivity to reverberate. This article began with celebration and so this should be the place to stop. This I believe!
Eluemunor, a 1991 Fellow of the Nieman Foundation for Journalism at Harvard, is a foremost Presidency scholar and lives in Abuja.