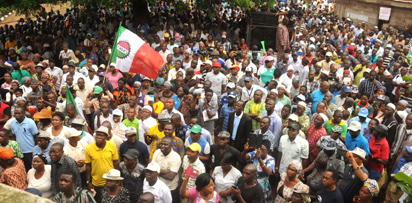 Members of Oyo state NLC on Wednesday stage another round of protest round the city of Ibadan the Oyo state Capital over the State Governments anti Workers policy. Pic: shows some of the NLC members at their Secretariat before setting out for another round of protest round the city of Ibadan the Oyo state Capital over the State Governments anti Workers policy on Wednesday. PHOTO: by Dare Fasube
By Victor Ahiuma-Young & Johnbosco Agbakwuru
ABUJA—Organised labour, yesterday, said it was mobilising to confront the Federal Government over its decision to sell some national assets which had before now sustained the nation's economy.
Organised Labour's declaration came on a day the National Union of Textile, Garment and Tailoring Workers of Nigeria, NUTGTWN, cautioned President Muhammadu Buhari against  planned sale of the assets.
Addressing journalists in Abuja, president of Nigeria Labour Congress, NLC, Comrade Ayuba Wabba, described the proposed decision of the government to dispose of the national assets as reckless auctioning of the nation's commonwealth to a coterie of capitalists and government's close associates.
Wabba, who also inaugurated a committee, alongside the Academic Staff Union Of Universities, ASUU, to engage the Federal Government on the issue, said if the dialogue with the government to stop the sale of national assets failed, it would mobilise its members across the country to embark on a nationwide protest.
He said that the congress was also considering the option of dragging the Federal Government to court, saying at least 20 lawyers had indicated interest to represent the Congress in court.
Wabba admitted that the congress had been passive on several national issues, but assured that it would engage  government vigorously and ensure that the assets were not sold.
He said the NLC decided to engage the services of intellectuals to come out with alternative policy ideas besides the ones being canvassed by government
Panama Papers
He said:  "The Panama Papers leaks which up till now have not been investigated, in other states, it has been investigated and the veracity of the allegation has also been proved.
"I think because certain individuals who are also now canvassing the sale of our national assets may be reason these issues have not investigated. We demand that those issues must continue to be investigated.
"Therefore, transferring our commonwealth to the ownership of a few will further impoverish all of us. I think it is high time even for government to try to take stock of all enterprises that have been privatised before now and what is their state.
"What comes to mind is the power sector, which was privatised for over three years now. I am sure that all of us will agree that no value was added, instead they have been exploited.
"We have been paying bills that cannot be justified. Even to provide meters have nearly been difficult even with the pronouncement by the court that they reverse the tariff, it has certainly not received any attention."
The NLC President contended that considering that previous privatisation programmes failed woefully, it made no sense to sell off national assets, stating that, "these are clear avenues where such instances have been used to undermine our commonwealth and also few people have actually taken over those very strategic assets.
"We are, therefore, restating our position that we are opposed to the sale of those strategic assets in whatever guise in order to try to address the challenges in the economic.
"We say this very patriotically, and we say this with the best of intention. I think the consequences would be more dangerous if we don't take necessary steps now to protect those important national assets. It would also not serve any public good if those assets found themselves in the hands of a few."
NUTGTWN
Meanwhile, the National Union of Textile, Garment and Tailoring Workers of Nigeria, NUTGTWN, has cautioned President Muhammadu Buhari against the planned sale of some national assets.
The union urged the President to be mindful of the "feverish prescriptions of few economic hit men" who, contrary to the spirit and content of the 1999 constitution, deliberately undermined national development through recommendations that fostered national assets stripping rather than sovereign wealth generation.
General Secretary of NUTGTWN, and member of the National Executive Council, NEC, of Nigeria Labour Congress, Comrade Issa Aremu, in a statement in Kaduna, titled Nigeria Not for Sale, argued that Nigeria was not short of resources, but lacked genuine resourceful leaders at all levels committed to nation building.
Aremu, who is also the Secretary, Alumuni Association of the National Institute, insisted that at 50 dollars per barrel of crude oil, Nigeria was still a rich country but "sadly impoverished by miserable leaders whose business as usual governance life styles include scandalous budget padding, illegal double prohibitive pension compensation for increasing army of two term governors, sheer theft of public funds officially put at trillion of Naira and lack of authentic vision of building the wealth of the nation."