By Kingsley Omonobi
Abuja—The Federal Government, yesterday, directed the Nigerian Police Force to put collaborative machinery in place between its information technology platforms with that of similar ICT and biometric platforms of organizations like INEC, BVN, and Pensions for better and faster investigations of cases and arrests.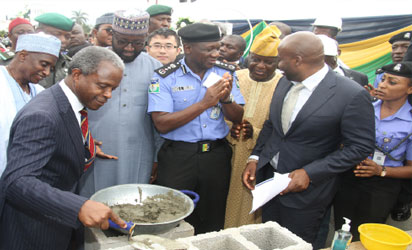 Vice President Yemi Osinbajo, who gave the directive at the foundation laying ceremony of the Police Crime and Incident Data base in Abuja, said this has become imperative in view of the sophistication of criminals, who now apply technology to perpetrate their nefarious activities.
"Criminals today, are well equipped. With your mobile phone, several things can be done. You can photocopy documents, send hundreds of messages in seconds.
People or Police in other climes no longer investigate the manual way. There is a lot of baseline data available using ICT and biometrics. That is why this project is dear to my heart for the Nigerian Police force.
According to the Vice President, "What we need in Nigeria is a Police force that is well trained, better educated, better equipped and a Police that have a grasp of the issues involved whenever they are called upon to do their job. This event is a major step to achieving that goal".
Emphasizing that the modern day policing is based on intelligence, technology rather than brutal use of force, Osinbajo said with ICT and biometrics technology, smart and fast investigation can be conducted at cheap costs by keying into the internet, where everything you need can be accessed in real time about businesses, organizations and other concerns.
In his remarks, Acting Inspector General of Police, Ibrahim Idris said the police Crime and Incident data base will bring about digital crime fighting techniques and accessibility to a one stop data bank aimed at professionally profiling criminal elements with a view to changing the face of crime data management in the force.
Idris said: 'The conceptualization of this project at this stage of our nation building vis a vis curbing corruption and all forms of criminality such as insurgency in the North east, militancy in the South-South, Cattle Rustling in the North Central and North West, as well as kidnapping amongst other major crimes across the nation cannot be over-emphasized."