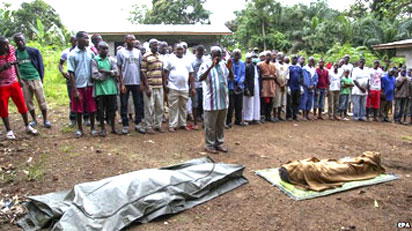 Hollywood plague movies are usually about a fictional viral outbreak, unleashing chaos and anarchy that can only be stopped by heroes who transcend the panic.
That's not true for "93 Days", a Nollywood film premiering on Tuesday, which dramatises the story of Nigeria's response to the very real Ebola epidemic in 2014 that killed more than 11,000 people in West Africa.
Hundreds had already died from the disease in Guinea, Liberia and Sierra Leone when Ebola surfaced in Nigeria as a Liberian finance ministry official, Patrick Sawyer, arrived in Lagos on July 20, 2014, visibly unwell.
When it was confirmed he had the haemorrhagic virus, there were fears it would spread like wildfire in the megacity of 20 million and across Africa's most populous nation — and then beyond.
But that's not what happened in Nigeria, and for many people that was nothing short of a miracle.
There were just 19 confirmed Ebola cases and seven deaths, including Sawyer, and Nigeria lifted its state of emergency 93 days after he was first admitted to hospital.
During a recent advance screening of "93 Days" in Lagos, the audience was chatting and flicking through their smartphones as the titles rolled, in typical Nigerian fashion.
But when the words "based on a true story" appeared on screen, the room fell silent.
"For the first time, Nigerians united to fight against a common enemy, everyone was scared," producer Bolanle Austen-Peters told AFP.
"Two years later, it is as if there had been a general amnesia, no one seems to remember what we went through.
"It seemed to me important that we document our own history of our country."
– Blood spray –
Directed and co-produced by Nigerian Steve Gukas and written by South African Paul Rowlston, "93 Days" portrays the medical staff of First Consultants hospital, where Sawyer was patient zero.
At the time, coverage of the Ebola epidemic was dominated by images of people being carted away by medical staff encased in head-to-toe protective suits.
The movie shows the horror of the virus. There were gasps in the audience when Sawyer rips out his intravenous drip and blood sprays onto the medical staff.
But it also reveals the humanity in the crisis, showing the courage and sacrifice of those on the front lines of the battle against Ebola.
Some in the audience were sobbing during the scene when a young man says goodbye to his dying mother, trapped behind the clear plastic wall of an isolation ward.
The mother, played by Nigerian actress Bimbo Akintola, was the clinic's most senior doctor, Stella Adadevoh, who heroically refused to discharge Sawyer despite heavy pressure from Liberia.
In the last scene, Nigeria's green and white flag is behind hospital director Benjamin Ohiaeri, played by US movie star Danny Glover, as he gives a rousing speech on the resilience of Nigerians.
Sponsored by the Lagos state government, the scene mirrors the naked patriotism seen in such Hollywood films as "Independence Day".
– Premiere in church –
But for many that moment of national pride is worth celebrating at a time when Nigeria is in the depths of an economic recession and armed groups, including Boko Haram in the northeast, are wreaking havoc.
"Here we come!" actress Somkele Iyamah Idhalama said, raising her left fist.
She is taking the movie to the Toronto International Film Festival later this month, where "93 Days" was selected alongside seven other Nigerian productions.
"That's what I've always wanted to do, to put my country on a better light," said Iyamah, who plays Doctor Ada Igonoh who contracted Ebola but recovered.
Igonoh gave birth to a baby girl in the United States last November in what the First Consultant Hospital called "a new lease of life and in memory of fallen colleagues and survivors" of Ebola.
Iyamah said Nigerian cinema is now "taken more seriously" and has a crucial role to play in the country's development.
"We have shown that the economy can survive with a huge input from the entertainment sector… We can save the economy," she said.
That economic contribution can be seen as Nollywood films — traditionally low budget — are improving and being helped by pan-African satellite TV channels.
Nigeria's entertainment industry grew to 1.4 percent of GDP — $7.2 billion — in 2014, according to Oxford Business Group.
The premiere of "93 Days" is being held at the House on the Rock, an evangelical mega-church in the prosperous suburb of Lekki that can seat 7,000 under its roof.
"There are not so many places in Lagos that can host so many people," event organiser Joseph Umoibom said.
Still, for a movie about a miracle, perhaps there's no better place.