By Nwabueze Okonkwo, Onitsha
A renowned Pharmacist and Chief Executive Officer, CEO of Alben Healthcare Industies Limited, a subsidiary of PAL Pharmaceuticals, Kano, Chief Alexander Uzo Onyido has been elected as the new traditional ruler of Ogidi community in Idemili North Local Government Area of Anambra state.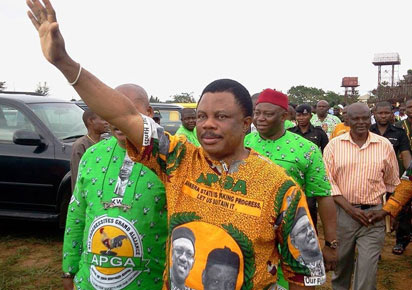 His election has thus brought to an end the age-long Chieftaincy tussle in the area, which sparked off before and after the reign of Igwe Walter Amobi who joined his ancestors barely 18 years ago and left the throne vacant since then.
Onyido's emergence has also brought to an end the claims being laid by the Amobi family that the Igweship stool was hereditary and as such must be rotating within the family.
Two prominent citizens of the community, Onyido and Chief Rex Obi Ezegbo, another Pharmacist and Proprietor of Rex Chemists Limited and Rex Table Water, had been lined up for the contest, but while the election was about to kick off at the community town hall, Uru village, Ogidi, Ezegbo, stepped down for Onyido, saying that his action was for the interest of peace and tranquility in the area.
Ezegbo's stepping down for Onyido was greeted with loud ovation as men, women and even octogenarians moved en masse to Onyido's palace with joy and jubilation.
In his acceptance speech, the new monarch, Igwe Onyido thanked his subjects for calling him to serve them, adding, "It is with deep sense of responsibility and humility that I stand before you all today to communicate my acceptance to hold the highly exalted office of Igwe Ogidi. I sincerely promise to discharge the duties of that office faithfully, zealously, conscientiously and to the best of my ability, to the glory of God Almighty and to the general welfare of Ogidi people".
According to Onyido, "I must salute the courage of President-General of Ogidi Union, Chief Chuka Onubuogu and members of the town union executives and various steering committees for planning and executing the election processes successfully, despite determined efforts by some disgruntled elements to frustrate and truncate the exercise".
"May I therefore thank the generality of Ogidi people for the tremendous zeal which they demonstrated in this quest for the right monarch for Ogidi community as is evident from the massive turnout recorded during the electioneering campaigns as well as the election itself. With this, it can be confidently said without fear of contradiction that Ogidi people have spoken".
The Igwe-elect added: "To our highly respected illustrious son, my very senior colleague and opponent in this election contest, Chief Pharmacist Ezegbo, permit me Sir, to say 'I am still loyal'. Your courage and perseverance throughout the election processes was to say the least highly inspiring to all and sundry. We shall always seek your support and wise counsel as we continue to strive to move our great town forward".
Declaring himself as the Igwe Ezezeremagha 1 of Ogidi Kingdom, Onyido warned youths in the area against hooliganism, adding that once his official crowning ceremony took place, he would roll out his already written good script for the general good of Ogidi youths and the community by extension.
In their separate reactions, the Kano state Chairman of Ogidi Union Nigeria, Chief Sunday Efego and his Lagos state counterpart as well as Chief Augustine Okechukwu Chukwuka, described Onyido's victory as God's answer to the prayers of Ogidi people.
They expressed optimism that Onyido's ascension to the throne as the new monarch would help to unity Ogidi people within the shortest possible period.