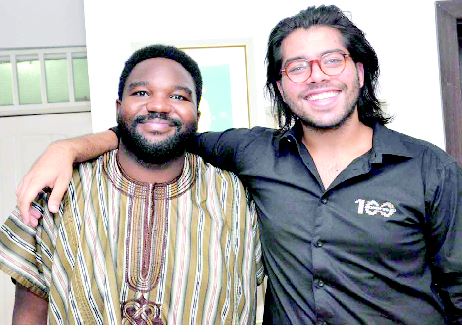 Mr Saifudeen Seun Edu (left) and Tushar Hathiramani, partners at Jeun Soke Supper Club, the newest Supper Club in Lagos PHOTO: AKEEM SALAU
By Ebele Orakpo
With the Nigerian economy seemingly going to hell in a hand basket,  people are desperately looking for means of survival. First, we were told the economy was technically in recession and now, it is officially in recession! In this chat with Vanguard, two young professionals – Saifudeen Seun Edu, a lawyer and Tushar Hathiramani, a Political scientist, speak on their passion and their desire to do something unique in the food and beverage sector as they launched Jeun Soke, a supper club based in Lagos. The duo decided to use what they have to get what they want; not in the sense usually used by men and women of easy virtue. Excerpts
The duo
Mr. Saifudeen Seun Edu who is in charge of the food section, studied law at the University of Manchester and went on to do his legal practice course, a post-graduate course at BPP University in London, after which he went to the US to take the New York Bar exam. He is in Nigeria now for his one year national youth service programme.
Mr. Tushar Hathiramani who mans the drinks section, is Indian by birth but grew up in Nigeria. "I studied here in Lagos and India and then went to the US where I studied Politics and Photography. I used to work for a commodity trading company," said Tushar.
Supper club
Said Saif: "Cooking has always been something I enjoy and passionate about. I watched a lot of cooking programmes while growing up. My mother is a fantastic cook as well as her mother so it's kind of a family thing. I realised that in Lagos, although there are a lot of places to go and experience a lot of things but what we are trying to create is something very unique, a private dining experience."
"I have always been interested in culture, art, entertainment and lifestyle. We opened this place to give Lagos a different taste. With the economy in recession, now is the perfect time. People don't want to travel abroad anymore because they cannot afford the exchange rate. The idea is for people to spend the money  here on the same things that you would elsewhere. We want to create an amazing supper club. I have been into making drinks for a while. I am a mixologist," said Tushar.
Our menu:
Speaking on their menu, Saif said: "I am most proud of  the Local menu. We offer our patrons three different options – Light menu,  Local menu and  Sinful menu.
The Sinful menu is for people who are not mindful of their waistline; people who want to enjoy with reckless abandon. The Light menu is for people who are a bit more health-conscious. The portions are slightly smaller; all the ingredients are things that would not be considered high calorie foods. For the Local menu, we take classic Nigerian dishes and put a twist on them. For example, the native jollof rice, which I call Not for Lagos rice, instead of the traditional long grain rice used to make jollof in Nigeria, we use the short grain paella rice used in Spain to make the Spanish paella. It adds a different texture to it; different from anything you would get anywhere else.
"The same with the drinks. We have Zobo sangria; we have a cocktail that has Alomo Bitters in it. We are trying to use local ingredients to give you an experience different from what you are used to. So that is the main idea," said Saif.
"I am into drinks while Saif is into food. One of the drinks for the main courses has Alomo Bitters which I really love and the other one is a zobo-based drink, Zobo sangria," stated Tushar.
Affordability
On the affordability of their services, Tushar said they are affordable. "I mean at the current foreign exchange rate, I think for a meal of this value, I will say yes. But I won't want to say affordable, I would say it is value for your money. I think we have done a lot to create a certain ambience and definitely, it is worth the amount of labour we put into it." Corroborating Tushar's assertion, Saif said: "It depends on your perspective. Obviously, in this economy, times are hard for everybody so not everybody can afford to spend so much on a meal but at the same time, I truly believe that we are offering better quality of service and food than most restaurants in Lagos. If you are to go to a restaurant in Lagos and order alcohol, appetizer, main course and dessert, you will be spending almost three times what you are paying here and that is the reality."
Sourcing for raw materials
"Luckily, I have managed to find the paella rice in a supermarket here. I think in future, I will use local rice for a different dish. The whole point about the Not for Lagos rice is that I wanted an element of the dish that is not solely Nigerian, to kind of show the fusion of different cultures and foods. I could have just done standard jollof rice but that is not unique. You can get native jollof rice anywhere but I am trying to offer something that is different from what you get anywhere else," said Saif.
"Well, it is hard to source local vodka and gin. They are imported but majority of the stuff I try to do with the drinks have a local element to it. I am trying to use as much local stuff as I can. Perhaps in the nearest future, I will try to do something with palm wine and may be ogogoro. I actually went to an exhibition recently about all this stuff and it was really interesting. We can do a lot," Tushar enthused.
In future
Hopefully, we will do some more events, may be do some private dining for different people. If you see what we do and you like it, you can say 'ok, I want to have a dinner party for 10, 12, or 20 people'. We will say ok, this is the menu we want to create for you. We will work with you to give you an evening you will never forget," said Saif.
"I hope Jeun Soke will be a restaurant and a bar in a big hotel, not just a supper club.
The name
The name, Jeun Soke, was a play on words. The literal translation is Eat up, which we felt was apt since it was set in an apartment on a high floor but also, it is an idiom which really means to eat well which we felt encompassed what we were trying to achieve with the event.," explained Saif.