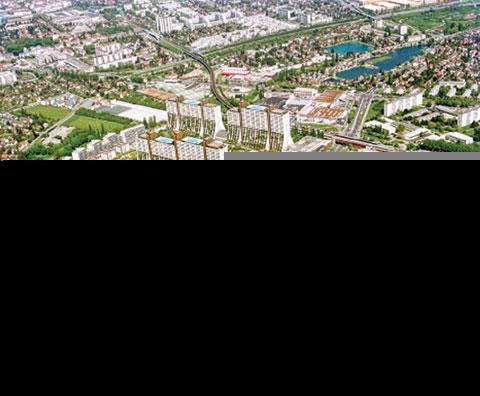 A mass development of social housing
By Yinka Kolawole
THE Federal Government is targeting the provision of mortgages at single digit interest rates and long tenor as it plans to unveil a new housing finance initiative.
Minister of Finance, Kemi Adeosun, revealed this at the recently concluded 32nd Annual Conference and General Meeting of the African Union for Housing Finance (AUHF) in Abuja. She said the initia­tive to finance housing projects is aimed at the construction of over 300,000 affordable houses through mortgage fi­nancing and creation of 700,000 new jobs across the housing development value chain.
The minister explained that govern­ment was also contem­plating putting in place foreclosure law and that would expedite legal processes for dispute resolution that is needed to support the de­velopment and growth of mortgage institutions in the country.
She emphasised the need to put in place mon­etary policies that would support low interest rates by finance institutions "as a means of boosting activities in the mortgage industry", adding that federal gov­ernment is committed to bringing down the cur­rent high interest rate.
Represented by Mr. Seye Senfuye, the minister said: "We are committed to fundamentally addressing historical challenges to housing. This requires innovative financial solutions that will stimulate housing development, related industries, create jobs across the nation and satisfy yearning for security through home ownership.
Nigeria deserves to acquire affordable homes, built to a standard of good quality, located in well serviced estates that will create ideal environments in which they can raise their families, instead of being saddled with the challenges and risks of trying to build their homes organically. Due to the current high rates of interest, we believe that government intervention to bring down rates and enhance affordability is needed and we are committed to doing this."
Also speaking at the event, Minister of Power, Works and Housing, Mr. Babatunde Fashola unveiled plan by the federal government to de-risk lending to property developers and provide guarantees and credit enhancement to stimulate growth in the housing sector. Fashola who was represented by Mrs. Eucharia Alozie, Director, Public Private Partnership (PPP) in the ministry, said government recognises that provision of leverage and guarantees are critical to attracting private sector funds to the industry, thereby creating thousands of affordable houses yearly and generating employment and commercial activities.
"From the inception of government's initiative in organised housing finance system (in Nigeria) to date, only meagre sum have so far been injected into the system. This accounts for less than 0.5 per cent of the GDP compared to other climes, like the United Kingdom and South Africa. This is due to the inability of financial systems to provide low cost finance that meets the need of low and medium income earners," he stated.
In the same vein, Governor of Central Bank of Nigeria (CBN), Mr. Godwin Emefiele, remarked that the development of Nigeria's housing market is key to growing the economy and the Gross Domestic Product (GDP). Represented by Dr Ahmed Abdullahi, CBN's Director, Other Financial Institutions Department, Emefiele identified non-availability of long term capital to boost mortgages as a major challenge crippling the country's housing market. He noted that the housing sector currently contributes less than one percent to the nation's GDP while the housing market in the United States represents 80 per cent of the country's GDP.
He lamented that Nigeria was lagging behind in comparism with other African housing markets. Emefiele noted that the single largest financial asset class worldwide is in the United States' housing market, noting that it's more than the country's capital market.
AUHF is a 55-member association of mortgage banks, building societies, housing corporations and similar organisations working on the mobilisation of funds for shelter and housing in Africa.