By Tony Nwankwo
Sir Emeka Nwokedi is Music Director, Muson Centre, Onikan, Lagos. He is also Music Director, Lagos City Chorale; Music Director, Anglican Diocese of Lagos Mainland and Organist and Director of Music, All Saints Church, Surulere. In 2013, he was appointed, Member, World Choir Council representing Nigeria. He is the Official Representative of Interkultur (Organizers of World Choir Olympics) in Nigeria; ,a Member, International Society for Music Education (ISME) and Trustee of Nigerian Guild of Organists.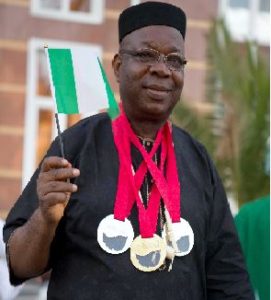 In this interview, he says government and the Nigerian society may not have been well informed of the relevance and positive effects of arts and music in the lives of people and in the development of a balanced society. Excerpts:
You just returned from Sochi, Russia, after another trip to Marktoberdorf, Germany with your Lagos City Chorale. You are always on the move. What are the trips about?
My movement is a performance tour of various countries of the world to perform with Chorale music. The Chorale music we perform is also an embodiment of Nigeria's indigenous chorale music. We started 2010, in Beijing, China, at the invitation of the International Society for Music Education.
There, the reception was good. I discovered there that people really liked our kind of music, because at the China Convention Centre, we had many admirers, so much that in the Convention Centre, there are many halls, but after our first performance, you discovered that any time the Nigerians will perform, people will leave other halls to come. From China, we went to Cincinnati, Ohio, in the United States.
The Cincinnati show was for a competition, called the World Choir Olympics or World Choir Games. I went with my choir, the Lagos City Chorale (LCC) for the competition. Another was in Ohio, also in the U.S. Everywhere we go, we win laurels. As we perform, it becomes clear that this is one area we can sell our country Nigeria. I see the enthusiasm of our audience and you can see the impact it is having on Nigeria as a nation. Each time we performed, people will come out en-mass to hail our performance.
In 2013, we were in Austria to contest in the European Choir Olympics. Its either we are going for European Choir Olympics or International Choir Olympics. In Graz, Austria, too, we excelled, because we won the highest number of medals in the contest. We had two gold medals and two silver medals. We have also been to Dubai, for an international performance and we have been to Riga, Latvia, for another World Choir event.
That was in 2014. In 2015, we were in Magdeburg, Germany. In these competitions, it is either World Choir Games or European Choir Games. In 2015, we went for European Choir Games in Magdeburg. There, again, we contested and won three gold medals. This year, we have gone out twice. First to Germany at the invitation of the Confederation of German Chorale Association.
They specially invited us to perform at the International Festival of Sacred Choral Music. There we were requested, specially, to present the Nigerian Sacred Choir Music.
So, our going out is definitely to sell the image of this country overseas, light this country up, because sometimes, the impression people have about Nigeria is always negative. But what we try to tell the people of the world is that Nigeria is not as bad as the negative impression that is being created. And that this country has positive things to offer to the world.
I have watched your group perform. One could say its elitist. Would you agree?
It depends on what you call elitist. The word here is ambiguous. Ours is a classic music. Our music is not for any particular class. Classical music is music that is organised, formalised, you put academic face in a sense, but you have to arrange it in a particular form. You have the form, you have the melody and you have the harmony. So, classical music is not really elitist per se. When we go out to these countries, we are not performing European classical music, rather we do Nigerian music.
If you listen to my events, you find out its a lot of folk music from Nigeria. You hear songs like Ise Oluwa, koni baje o!. Ise Oluwa koni baje o!. 'Welu obi dimkpa, kpaga liba!', Welu obi dimkpa kpaga liba!'. We accompany those songs with traditional musical instruments. So, our music is purely classical music and our classical music is not really the western classical music.
We do that for our own purpose when we leave these shores. We are not going there to do Beethoven, or Bach or Mendelssohn, because they have it in quantum. So, what we export is Nigeria's indigenous chorale music.
How do you get sponsored. Does the government ensure you are at your optimum in your participation in these high profile music events abroad?
That is the sore point, because I discovered that one of our ways to lift this country is through our music. Through our music we can make impact in the world, but the government is not buying into it.
And so little or no sponsorship comes to us. They would rather sponsor football at the Olympics, etc. but we have been winning golds. I watched the Rio Olympics, we won no medals at all, except the Football Bronze. But when I go out with my group, I come back with golds, silvers, etc. and these are international events where people from all over the world come for these Choir Olympics. Countries of the world converge and everyone is showcasing its own culture in music, in costumes, in choreography. But, unfortunately, our government has not keyed into it.
So, we have little or no sponsorship whatsoever. We struggle to do it on our own. And it is difficult. This is a very sore point, because you find other countries coming with their state executives. For instance, South Africa, while I try to go with very few people, South Africa will come with five to six bands, each of them numbering about a hundred plus, and fully sponsored. Sometimes you find their Minister of Culture coming.
The mayor of the city coming, their ambassadors in the countries coming to support them. So, we really don't have such support and I think it is high time government realised that we can do with that support. There are many ways that a country can be polished and lifted up and culture is one of them. Culture is one way because culture is our own.
Even the sports we do, some of them are alien to us. I watched the Olympics, some of them we cannot win, because they are alien to us, and people who have them are winning golds. But the music is our own, the culture is our own, so we can project it and be known throughout the world with our music. So, I think the government should key into it and discover that it is not a waste.
I came back from Russia recently, the World Choir Games in Russia was fully supported. I discovered they give as much support to music, to Chorale music, as they give to Sports because the President of the Russian Federation, Mr. Vladimir Putin sent his felicitations severally.
The Vice President of Russia was the co-chairman of the organising committee of the Chorale group. The Minister of Culture was the co-chairman, and the regional governor was involved, plus the mayor of Sochi who was there live, all the time. So, you see the support coming. They give support to music and arts as they give to other events.