By Gabriel Ewepu
ABUJA- THE Minister of Agriculture and Rural Development, Chief Audu Ogbeh, at the weekend, commended the prominent role farmers play in providing food security for the nation, and deserves government's support.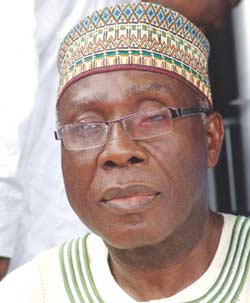 Ogbeh made the commendation at Otukpo, Benue State, during the distribution of stems of improved varieties of cassava to farmers under the programme implemented by the West Africa Agricultural Productivity Programme, WAAPP, Nigeria, a World Bank-funded programme, working under the Ministry.
The Minister maintained that farmers at the rural areas have been the major drivers of food supply to Nigerians, who have also forestalled food crisis and insecurity in the country, and assured them that government would do all it could to encourage them.
Explaining the essence of the programme according to the acting National Coordinator, WAAPP Nigeria, Mr. James Apochi, the cassava stem distribution was one of the three projects WAAPP has been implementing in Benue State, in collaboration with the Federal University of Agriculture, Makurdi, FUAM,
Apochi said the projects include fish fingerlings multiplication, cassava stem multiplication and adopted village extension programmes in no less than 12 villages in the state.
He further stated that the cassava project will stimulate domestic production of the commodity, provide employment for the youth, boost rural economy and reduce hunger and poverty.
Also speaking was Professor John Adisa Ayodele, who represented the Vice Chancellor, FUAM, Professor Emmanuel Kucha. He disclosed that the university has resolved to utilise the vast land belonging to it in producing agricultural commodities. He appealed for the inclusion of the university to participate in the programme's expansion in the second phase.
In his remarks, Mr. Oche Abor, who represented the beneficiaries said, "By this intervention, the government and WAAPP Nigeria have restored the farmers' hope."
Abor also called on the government to intensify implementation of the farm mechanisation programme for more productivity and in order to boost food security in the country and the continent.