By Emmanuel Elebeke & Susan Onuorji
There is no gain saying the fact that the people of Kaduna state have been living in fear following the recent earth tremor that occurred in Qei and Jaba area of Jaba Local Government Area of the state. It also happened in in Kwoi and surrounding villages of Nok, Sanbah and Chori in Jama Local Government Area of Kaduna State on Sunday 11th  and Monday 12th  September, 2016.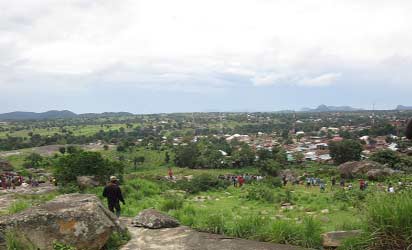 In a swift reaction to the incident on Wednesday, the National Space Research and Development Agency (NASRDA) attributed the cause of the recent tremor in Jama Local Government Area of Kaduna State to Passive sources. NARSDA, which spoke through its head of media and corporate communications, Dr, Felix Ale said that the nature of the source will soon be determined after the completion of yet another on-going thorough and further investigation of the incident by experts in the Space Agency.
The current findings, according to NARSDA was the outcome of a preliminary report by the team of experts immediately deployed to the affected communities from one of the activity centres of the Space Agency: The Centre for Geodesy and Geodynamics for on the spot assessment and to carry out a survey and investigation on the incident.
The team which was led by the Head of Seismology division of the Space Agency, Dr. Ofonime Akpan, established that the Seismological Station of NASRDA located at Kujama in Kaduna State accurately recorded the unfortunate incident which made it easy for collation of data and early release of preliminary reports on    the incident.
The analysis showed that the first event occurred at 12:28:16.50 seconds GMT on Sunday 11th  September, 2016 and the event had an epicentre located Latitude 9.825N and Longitude 7.885 E while Local Magnitude was 2.6 and Moment Magnitude was 3.0 and Focal Depth was 10km.
The report further revealed that the second event occurred on Monday 12th  September, 2016 at 03:10:48.80 seconds (GMT) with Local Magnitude of 2.6 and Moment Magnitude of 2.9 with Focal Depth of 10km while the epicentre was Latitude 10.879N and Longitude 7.188E.
This was followed immediately by another event at 03:11:20.00 seconds (GMT) located at an epicentre of Latitude 9.927N and Longitude 7.297E, Local Magnitude 2.9 and Moment Magnitude 3.0.
The reports revealed that the time of occurrence of these events and intensities of the locations as reported by inhabitants of the communities which included cracks on walls of buildings, falling off of ceiling fans and other items corresponded with the results of analysis carried out by the team of experts from NASRDA's Centre for Geodesy and Geodynamics.
Fielding questions on the incident in an NTA Good Morning Nigeria, programme on Thursday, the Chairman, Interim Management Committee, Jaba Local Government Area, Kaduna State, Mr. Ben Kure, said that the incident was the first of its kind in the state and lamented that the delay in providing answer to the youths had compelled them to flee the affected communities.
Kure, who spoke with lots of emotion, however explained that the local and state governments had taken steps to calm the youths and urged the federal government to intervene in order not to lose the youths, whom he described as good    farmers. "This is the very first time we are experiencing this. The Jama tradition, which is regarded as North Teracuta heritage dates back to 500BC. We have never had that kind of thing in the history; this is the very first time this is happening.
" We have restive youths who came from the localities to the Emire Palace, demanding for a solution, they are so restless. A good number of them have left. These are the youths that are farming. If a good number of them are moving away, and with the dwindling economic situation, while our focus is in Agriculture, then we are foreseeing a    very serious and precarious situation in the future.
"We have to focus    on this situation and arrest it, nip it in the bud, so that our young men can be rest assured that government is really up to it, to forestall any civil catastrophe to occur. But we are grateful that we felt the presence of the state government on Tuesday to reassure confidence.
"We keep appealing to our youths. Even as at yesterday, in the presence of Geologists, they were still moving away. But we have mental trauma, the state of mind of some people is no longer stable, they need a solution to this, that is what our people are calling for and we are appealing that something drastic happens."
What Government is doing
On what    he is doing, the Chairman said, "as local government Chairman, the first Geologist that came said we should not panic but be calm.    I am telling you about people who had never experienced this before, not even an explosion of bomb.
"We have never experienced this kind of thing. We have done everything, using church and Islamic leaders, district heads to tell them to calm down. But because we have never experienced this, they do not want to be taken unaware.    We are doing all we can, but still, they are moving away. "We have used the social media to appeal to them, local radio, TV, appealing to youth. They keep on asking if their land was going down. We tell them that government was bringing experts and they should be calm."
How they are addressing the situation
Speaking on the approach adopted by the local government, Kure stated that the government was considering provision of temporary accommodation in other places for those running away. 'Yesterday, NEMA came. So far, we have over 300 houses that have cracks from outside. If we have more intense vibration, I foresee buildings going down because I know quite a few buildings that have already suffered cracks from down to top.
"That is why we are calling for more detailed investigation, so that we know if we are to begin to move. Let federal government come along side with the state government, so that we know how many people will be resettled and how they will be catered for. For now, we keep appealing to them to remain calm.
"It is mind boggling, very disturbing. Within the 96 hours we have had 16 vibrations. I don't think it is a mistake or a fluke. It is something that is real and becoming consistent. We don't know how long it will end. We do not know the depth of the intensity. We need support. I am aware that officials of Geophysics and Geodynamics have reported to Jama LGA."
Also reacting to the incident, the Director, Centre for Geodesy and Geodynamics, Jos,    Dr. Tahir Abubakar said that his    agency had deployed a team of experts to study the incident and provide a report. He noted that their partial investigation revealed that the tremor was of 2.6 magnitude and had a depth of about 4 kilometres, down the earth, where it happened.
"The centre received the investigation report from Kwei in Jama LGA. When we got that information, immediately, we dispatched a team of our scientists to go there and get us first hand information and to get to the closest station, where the vibration happened. " We were able to get the data, when we came back to our station, we started to analyse and we will    issue a press statement as soon as we are through"
What should be done
He suggested that federal government    should set up an investigation team on the structural system to ascertain the extent of impact. He also called for proper and early planning    to avert possible dangers. "We need to find out where such a thing is prone to happen and quickly give early warning, and tell people to leave those areas.
"We do not need to build sky scrapers and high rise building in such areas, especially where such things are likely to happen. It is good that we have a station that could pick it as soon as it happened, orderwise no station could have picked it from far away."
Prof. Abubakar, who said that his Centre has about    seven active stations, with two    additional stations last year, boasted that they could locate such occurrence anywhere in Nigeria and the world.
"In the near future, our stations are becoming critical. It is a better way out to develop facilities and put them within the space of 50 Km, such that we will be able to see minute vibrations from any part of the country. "We cannot give accurate information on this kind of    development, without upgrading our facilities,"    headed.
Also speaking, Dr. Adekunle Adepelumi of Obafemi Awolowo University, Ile Ife, attributed the tremor to reactivation of earth system. He said that it was an insult for anybody to advise government to invite foreign experts to research on the incident, when Nigeria boasts of over 500 well trained experts, that can do the same job foreigners were asked to do.
"What happened in Kaduna state, we have looked at it from the satellite, and confirmed that what happened is reactivation of earth system that we have there.    That is early warning system that can    be monitored from the laboratory. Though, there are various types. Any part of Nigeria can be monitored. "In 2010  some oil facilities in Bayelsa State were affected    by this kind of vibration.
"I think it is an insult to Nigeria to think of bringing foreign experts to come and    find solution to this. In Nsukka, Ife and other parts of Nigeria, we have qualified personnel well trained to monitor this precursor." He advised government to assemble Nigerians experts who are qualified and well trained to handle the situation. He also called for deployment of early warning system, stating that there are various types that can monitor the movement of the earth.
On his part, former Vice Chancellor of University of Nigeria Nsukka , Prof. Kalu Onuoha, said with the recent tremor in Kaduna state, Nigeria is not in an earthquake prone area. 'The prone zone is concentrated along a particular zones of the earth that is called the margins of the clips, western margin of North America. Right from Chile Down, Panama, Mexico, California, State of Washington, Alaska, up to China, Philippine .
"The western margin of Africa from Morocco, Senegal, Cote d'Ivoire Ghana, Nigeria down is stable. What to do is to mark this because it is difficult to tell people not to worry." Pro. Onuoha, however, pointed out that the country had invested a lot in this type of business before and called for implementation of old reports to avoid future danger.
"Lack of action brought us where we are today. I don't think we    are in    any serious danger but we need to monitor. What we should do is to make sure people build properly with right materials    and cautiously. A number of reports had been sent to government but nothing tangible had happened."
Precautionary steps
On the way out of the situation, the don said, earthquake is not imminent, we know what to do here. I don't think we have any reason to expect earthquake but can have tremor. We have marked all the prone areas."