Barely five days to the September 10 governorship election in Edo State, a Civil Society Organisation, Get Involved Campaign, GIC, has raised an alarm over what it described as plot by security agencies to scuttle the election.
In a statement signed on behalf of the group by Ayuba Ephraim, the organisation raised serious concerns over the sudden redeployment of the Commissioner of Police of the state few days to the election.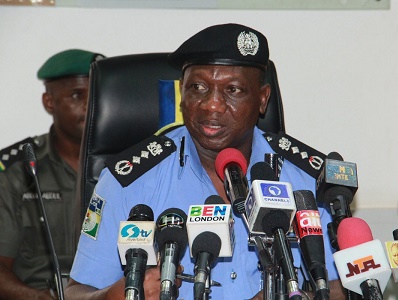 Mr. Fimihan Adeoye, on Monday, resumed duty, replacing the out-gone commissioner of police, Mr. Chris Ezike, who handed over the baton to him during a short ceremony held in Benin-City, the state capital.
According to Ephraim, INEC, from its official pronouncements is ready for the task ahead and seems to have learnt from its past experiences and has put in place plans to ensure that the election is conclusive and votes of the electorates count.
He however added that with this move, there is need for Nigerians to rise up and get involved in the process to monitor and ensure that rigging is not allowed and that the security agencies do not compromise on acceptable standards that would benefit either of the parties involved in the elections.
Ephraim said, "It is important at this point to situate the inglorious role being played by security agencies especially the Nigerian police few days to the Edo state gubernatorial election to truncate well established plans by the INEC to guarantee a free and fair election in the state.
"How else do you explain the sudden redeployment of the state's Commissioner of Police few days to the election. While we do not doubt the competence of the new commissioner of police, we wonder, why now?The sudden transfer by the Police force is a wrong signal as it will undermine the security network and meetings done before now between the security agencies and the commission with a view to ensuring free and fair election and also ensure that the votes of the registered voters count."
The statement stated further that more worrisome is that the transferred commissioner has fully participated in the inter-agency Committe on election security of INEC that is said to have completely overhauled and put in place new foolproof elections security architecture that was primarily meant to forestall cases of violence induced inconclusive elections and crass manipulation by political actors.
He said, "This new security strategy was to be tested in Edo State and based on its success adjusted in Ondo for a broader security regime that will be out in place to confine rigging to the dustbin. We also reliably gathered that following this transfer, there is plan to also replace all the Divisional Police Officers (DPO's) in the state as part of a grand plot to frustrate INEC's plans and leave the electoral turf as a free for all. This sudden change and movement of security agencies in the state is therefore suspicious as the new structure will only carry out the script of their pay masters at the expense of the electorates."