By Ndahi Marama
MAIDUGURI—Governor Kashim Shettima of Borno State said, Thursday, that failure of security agencies to give sensitive information in the war against insurgency was responsible for journalists breaking stories that work against their efforts.
He said when denied ade-quate information, journalists would scoop for same.
Shettima made this observation at a workshop on synergy between the media and military, organised by 7 Division, Nigerian Army, and Borno State council of Nigeria Union of Journalists, NUJ, in Maidu-guri, in response to claims that the media were working against military efforts in the fight against Boko Haram.
He noted that in developed countries, the media was often taken into confidence and told the truth about security situations, with the understanding that they managed their reports in ways that would not undermine the security interests of their host countries.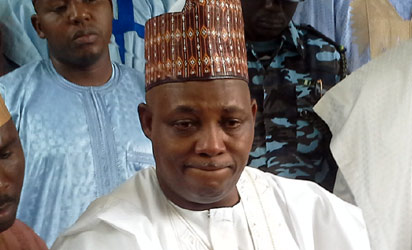 Governor Shettima said: "I have asked myself many times why is it that in developed countries, Presidents and other leaders would go to places like Afghanistan and Iraq to meet with their soldiers at the battle fronts and such visits would not be reported instantly by leading media houses of the world such as CNN, BBC, New York Times, Aljazeera, Reuters, AFP and others.
"I met one very experienced journalist in Lagos, who had worked with both Nigerian media and one of the leading international media establishments in Europe.
Media in West
"He told me that visits of Presidents and world leaders to any dangerous places are not reported live because they are taken into confidence by those in charge of managing the information on the side of the world leaders.
"The International media establishments are told about the plan and requested to give blackouts or delayed report instead of real time.
"At most, the media houses would mostly request that their reporters cover the trip or that clips are given to them, so they could break the news simultaneously after the visit.
"Compare that with a classical situation in Nigeria. When former President, Dr. Goodluck Jonathan was said to be planning to visit Chibok in 2014, the trip was instantly revealed by virtually all Nigerian media houses, even when at that time, the visit was supposed to be a secret one, given the strength of Boko Haram at that time.
"Journalists must see themselves as an important stakeholder in national security; as someone who has a role to play in discoura-ging the propaganda of Boko Haram."