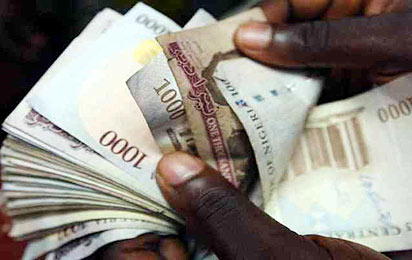 Naira
The inability of commercial banks to give long-term credit facilities is due to the non-availability of long-term-deposits by Nigerians, a financial expert, Mr Nnamdi Okonkwo has said.
Okonkwo, also the Managing Director, Fidelity Bank Plc, made the remark at a conference organised by the Finance Correspondents Association of Nigeria (FICAN) in Lagos.
The theme of the conference was: ''Nigeria beyond Oil, Financing Options for Non-Oil Exports''.
He said that most depositors who had huge amounts to save, did it on short-term basis because of uncertainties of the economic policies.
Okonkwo wondered why banks were always condemned at every occasion for not lending long-term facilities to businessmen and farmers, whereas they traded mainly with short-term deposits.
The managing director insisted "that commercial banks do not have the kind of huge amount of money to lend out to those in businesses for long-term period''.
The financial expert also listed lack of the right framework as being responsible for local banks not lending long-term to Small and Medium Scale Enterprises (SMEs).
He said lack of infrastructure, such as power, among others had made the bank to generate private electricity for its operations.
According to him, banks paid full interest on all deposits, while 25 per cent was taken as Cash Reserve Ratio (CRR), leaving banks with only 75 per cent of the amount to trade with.
He said, "If as a bank, I know a secret place where I can get long-term funds to trade with, I will be the number one bank in Nigeria today because I can lend long-term.
"Bring me a depositor that will place N100 million today with me at 10 per cent.
"I will then give a loan at 15 per cent and pay the depositor's interest on N100 million but I have to trade with N75 million because the Cash Reserve Ratio is deducted from the N100 million.
"For me to get access to five per cent of the money, I have to lend to a cocoa farmer. You have to lend for industrial production,'' Okonkwo said.
The managing director said that banks paid three per cent as premium to Nigerian Deposit Insurance Corporation (NDIC) from all deposits.
"Not only that, the bank will also pay three per cent NDIC premium on the same N100 million deposit.
"Remember, I run my own power. In fact if you put together the voltage we produce in 248 branches of Fidelity Bank, it can power the whole of Lagos State,'' Okonkwo said.
He said that it was difficult to get a Nigerian who will deposit money in the bank for one year, yet, people kept blaming the banks for not lending money for long-term projects.
Okonkwo said that a lot of banks collapsed in the past because of assets mismatch. That is people who matched long-term assets with short-term funds.
"When there is a run in the system, the owners of the short-term funds will come for their money and you have to pay them.
"If you pay them, the people you gave long-term loans cannot pay up. Then you begin to have distress in the system, '' he said.
The financial expert, however, said that the Nigerian Export Import Bank (NEXIM Bank) and Fidelity Bank Plc were taking measures to enhance non-oil exports and create wealth for Nigerians.
The managing director said the lender was always at the forefront of financial services solutions and lending, adding that supporting SMEs should go beyond funding.
"This is what informed the Fidelity SME Radio Forum, a programme designed and sponsored by Fidelity Bank to educate, inform, advise and inspire budding entrepreneurs, that is aired on Inspiration FM Lagos," he said.
The Managing Director/ Chief Executive Officer, Heritage Bank Ltd., Mr Ifie Sekibo, said Nigeria had export potential in some agricultural commodities like cocoa, cashew, groundnut and fish.
Others are: sesame seed, ginger, cassava, snails, tobacco, coffee, cotton lint, rubber, among others.
He said Nigeria could export bitter leaf, plantain flour, melon, crayfish and maize.
Sekibo was represented by Mr Olugbenga Awe, Group Head, Agriculture Finance, Project and Development Finance Department of Heritage Bank.
He said that the country could also export manufactured goods such as: cocoa cakes, butter, powder and liquor.
The managing director said that others include: detergents, malt drinks, palm kernel cakes and oil, baby clothes and confectioneries.
In the category of handicraft, Sekibo said that Nigeria could export talking drums, calabash, wood carvings, raffia products, among others.
He said that the nation's entertainment industry contents from the Nollywood artists could be exported to neighbouring countries.
Sekibo expressed regret that exporters from Nigeria were not competing enough, adding that some Nigerian exporters went to Cameroun to bring in products and blend them for exports.
He said that as a country, Nigeria could not afford to continue going backward in terms of non-oil exports.
Sekibo advised that exporters should take the right steps to source funds for export.
According to him, the first step is to know the difference between funds required for financing the business between the commencement of the manufacturing or procuring process and the dispatch of the goods.
He urged exporters to also know that banks looked for certain criteria for financing.
According to him, banks also look at the season of the products, product destination, transaction cycle and the buyer's payment history.
He said that banks looked at these because they faced challenges of inadequate resources for export finance.
Sekibo said that banks also faced challenges of inadequate infrastructure to control products quality; lack of dependable source of local product prices and supplier information.
He also noted that there were too many players in the products supply chain and the challenge of fraudsters in the product supply chain.
The managing director said that cocoa was usually ranked number one in the discussion about non-oil exports in Nigeria.
"Yet the country lags behind some other West African countries in terms of volume and quality of products,'' Sekibo said.