BY FRANCIS IGATA
ENUGU – The Movement for the Actualization of the Sovereign State of Biafra, MASSOB, Thursday, declared full blown war with the Federal Government to press for the unconditional release Mazi Nnamdi Kanu and other Biafra agitators detained in various prisons nationwide and in Diaspora.
A palpable anxiety pervades Enugu State over the would-be clash between pro-Biafra groups of MASSOB, Indigenous People of Biafra, IPOB, and security agencies following the Friday sit-at-home order, to protest the continued detention of their members in detention.
Vanguard monitored the mood of the people within the metropolis and found out that many parents may have decided to withdraw their wards from school even as they were apprehensive of going to their various places of work.
There was copious presence of security personnel at strategic places within the metropolis especially at the three-arms zone housing the Government House.
At the Okpara Square, a detachment of Mobile Policemen numbering over 200 were seen rehearsing crowd and combat techniques as early as 9.30AM. Unusual siren blaring police vehicles patrolled the streets intermittently while Police authorities had earlier assured the public of adequate safety, advising them to go about their lawful businesses.
FULL BLOWN WAR WITH FG
A statement signed and made available to Vanguard by MASSOB Leader, Uchenna Madu read," MASSOB in the spirit of Biafranism and brotherhood among Biafra agitators have declared full support for the call for civil disobedience against Nigeria state on the release of Mazi Nnamdi Kanu and other Biafra agitators detained across Nigeria and in Diaspora.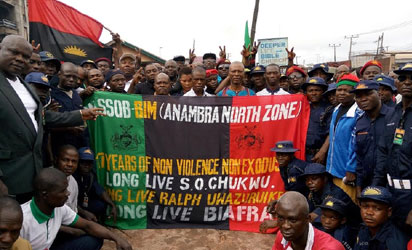 "In the spirit of collaboration and for Biafra sake, MASSOB will engage positively in every steps, programs and activities that will draw Biafra closer to actualization. We shall continue to collaborate and partner with every positive move and steps that will affect the release of our Comrades in different Nigeria prisons and detention camps.
"The call for stay at home tomorrow which has been our recalling measure and steps for effective civil disobedience is totally voluntarily, this exercise has always been the life wire of the Biafran struggle which boomed the potency and acceptability of the Biafra struggle. The request for closure of Markets, public / private motor parks, schools and other public business premises is voluntarily, not by force, it is a mark of respect and love for our fatherland. As a non violence organization, Biafrans shall not be compelled, pressurised or forced to observe the stay at home exercise.
"MASSOB, IPOB and other pro Biafra groups will not molest, compel or intimidate anybody to observe the stay at home exercise as all our members shall stay indoors, there shall be no physical demonstration, street march, procession or any other public functions tomorrow in Biafra land.
"The heavy presence of armed Nigeria Army, Mobile police, SSS operatives, Navy, Civil Defence in major cities of Biafra land since yesterday are all signs of Military jittery, fear and cowardice, it is mesmerization of President Buhari's soldiers. The security panic, the presence of Soldiers has created in Biafra land will assist immensely and positively on the people to comply to our demands.
"The Nigeria security agents are complimenting and justifying the Biafra struggle. MASSOB is demanding the unconditional release of Mazi Nnamdi kanu and others detained in Nigeria prisons. The Biafra struggle will continue to unfold more confusing nature to Nigeria state until they realize their fruitless efforts in the unjust detention of Biafran Jews.
"No amount of security intimidation, mesmerization, killings, detention, oppression, incarceration etc will ever stop the will power of an indigenous people for self determination. MASSOB also condemned the brutalities, unlawful subjection and detention of Uchenna Inya (Abakiliki correspondent of New Telegraph Newspaper) on the day of MASSOB anniversary, the use of force can never stop the inflow of the spirit of Biafra".
Subscribe for latest Videos