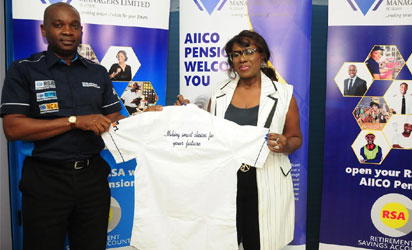 Managing Director, AIICO Pension Managers Limited. Mr Eguarekhide Longe presenting a souvenir to Joke Silva
AIICO Pension Managers Limited (APML), a licensed Pension Fund Administrator (PFA) operating in Nigeria and a subsidiary of AIICO Insurance Plc, recently marked its 10th anniversary with the unveiling of veteran actress, producer and TV personality, Joke Silva as brand ambassador.
This strategic partnership in addition to promoting the AIICO Pension brand will greatly improve public acceptance of retirement planning and pension in general.According to Mr. TundeOttun, Head of Strategic Planning and Corporate Communications;
"Our decision to partner with a brand ambassador was also predicated on the need to infuse a bit of entertainment in the ongoing discussions around retirement planning, in order to ramp up public appeal. Hence, Joke Silva.Being a well-known and respected member of the Nigerian entertainment industry was the first name that came to our mind. We had no doubt that she would be a perfect fit and we are glad she accepted to partner with our company on our quest to secure the inclusion of more Nigerians under the Contributory Pension Scheme."
APML which was licensed by the National Pension Commission in April 2006 commenced operations in May of the same year, with a vision to be the most efficient customer-centric organization in the Pension industry. Since inception, APML has continued to add value to the growing Pension industry through its various public enlightenment programs aimed at sensitizing the general public on the need for Nigerian workers to commence a pension plan from their first day of employment in other to live a good life in retirement.
AIICO Pension Managers Limited has over 200,000 RSA holders and manages funds in excess of N60 billion. With branches in 29 state capitals and the FCT and having deployed robust technology solutions that brings service delivery to the fingertips of its subscribers, APML is committed to continuously making those smart move and smart choices that helps Nigerian workers secure their future.