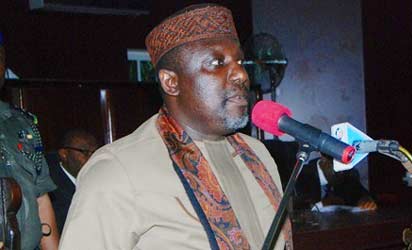 Gov Rochas Okorocha
By Chioma Gabriel
Owerri—Forty-Eight hours to the expiration of the deadline given to the remnants of the Niger-Delta Avengers fighting in the oil producing areas of    Ohaji/Egbema and Oguta, a leading Commander of the militants, General Felix Omereji, Wednesday, surrendered with his fighters and embraced peace.
The event which took place at the Imo International Convention Centre, IICC, also saw the security chiefs in the state in attendance with General Felix stating that they boycotted the first phase of the disarmament programme last week to see what the state government would do with the commanders and their fighters who had surrendered their weapons at the event.
He explained that he and his group were encouraged to surrender their weapons and embrace peace when they saw the sincerity of  the governor with regard to the first disarmament programme.
General Felix and his fighters  surrendered guns, including AK-47 and explosives,regretting all they did in the oil producing areas of the state and prayed that God would also forgive them.
He thanked  Governor Okorocha for his approach to the whole development which encouraged them to come out from the forest to embrace peace,  assuring that they would ensure the sustenance of the peace already achieved in the oil producing areas of the state with the militants dropping their guns and embracing peace.
In his speech, Governor Okorocha told General Felix and his fighters that he has granted them pardon like those before them while President Muhammadu Buhari would grant them amnesty, adding that, they had done well by not waiting for the deadline he gave to them to elapse.
"We are here to receive our children who have been living in the forest for years, killing many people. I am your father. I will pardon you, while the president would grant you amnesty. We have gathered to dramatise life for those of the militants who have dropped their guns to embrace peace. They have been pardoned," he said.
The governor expressed happiness that since the last disarmament programme, the people of Ohaji/Egbema and Oguta who abandoned their homes and ran away for years or months have begun to return to their homes and assured that he would do all within his power to ensure that the peace achieved in the areas is maintained.