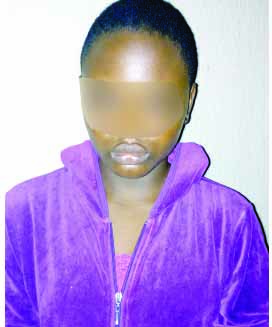 Uzoamaka
By Peter Okutu
ABAKALIKI—GOVERNOR David Umahi of Ebonyi State yesterday ordered the return of the 15-year-old girl, Uzoamaka Chukwu, who was stripped and tortured on July 13  by some people in Uburu, Ohaozara Local Government Area of the State.
This is barely 38 days after the victim was dehumanized and humiliated in the presence of her community members in a broad day light.
Umahi, who gave the order  on Sunday  when he visited the family of the teenager at Umunaga Uburu, said her return would enable state   government take full responsibility of her rehabilitation and training.
Vanguard learned that Uzoamaka was last week reported to have been adopted by a businesswoman, Ms Rita Nnenna Anoh.
Umahi said she must return within seven days or be declared wanted because she remained a property of state.
Meanwhile, the member Representing Ohaozara, Onicha and Ivo federal constituency in the House of Representatives, Linus Okorie have called for the sack of the Coordinator of Ohaozara West Development Centre over his alleged role in the attack of Uzoamaka Chukwu.
The 15-year-old girl was stripped, flogged and dragged around with the video of the incident recorded and circulated on the social media.
Following the intervention by the lawmaker and others from the area, the Police came into the matter and promptly arrested Mr Odi, his two brothers and three policemen.
They were later charged to court and granted bail. The Coordinator was surprisingly seen at Governor David Umahi's country home ,Uburu, weekend, when the governor hosted stakeholders from the Ebonyi South zone of the state.
He was also sighted at the country home of Uzoamaka when the governor visited the family over the incident.
Many people condemned the appearance of the coordinator at both locations and other locations visited by the governor and wondered why the coordinator has not been sacked by Umahi.
In a facebook post on his wall, Okorie reiterated his earlier call for the coordinator to be sacked by Governor Umahi.
According to Governor Umahi, in a statement by his Chief Press Secretary, Emma Anya: "Government is asking that wherever she is, she should come back so that we can take over her training from secondary school to university level. We will also be able to rehabilitate her."
Umahi said what government was doing was in no way going to stop the case in court, stressing that the case in court will continue to run its course.
Responding, Elder Francis Odabe, who responded on behalf of the family expressed fear over undisclosed whereabout of Uzoamaka."
"We thank you for the commitment of the government towards Uzoamaka's well being. Nobody knows where she is but we promise to do all in our powers to bring her out".