By Patrick Omorodion
Youth and Sports Development Minister, Barrister Solomon Dalung has vowed to discipline the U-23 national football team coach, Samson Siasia and every other team official who took to the media to vent his or her frustration with regards to perceived poor preparation for the Rio Olympic Games which begins on Friday.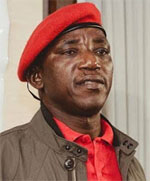 According to a press statement issued by the minister's Special Assistant on Media, Nneka Anibeze, the sports minister, who is in the USA to visit both the U-23 football and basketball teams heading to the Olympics, said that officials who violate code of their profession (sic) would be sanctioned.
From the statement, it is apparent that  Barrister Dalung has stripped Siasia of control of the team and instructed Olympic Eagles captain, John Mikel Obi to assume control of the team and restore sanity.
The statement while disclosing that Dalung frowned at the camp conditions and welfare of the players, stressed that the minister "restated that the Ministry was not carried along in line with approved training and camping programs for the Games."
"There is no doubt that the ministry was not  considered while plans were being made for the Olympic football team.  Nevertheless, we shall intervene to remedy the situation. I have appealed to the captain to assume control of the team and restore sanity. For officials who decided to violate the code of their profession and take to media rampage(sic) to secure cheap blackmail, their conduct will definitely be measured with existing rules.
We have decided to restore sanity and discipline in Team Nigeria. We shall stop at nothing to sanction any conduct that is not within the code of Rio operations. All federations are hereby directed to stick to the rules,"the statement quoted Dalung to have said.
Anibeze stated that the Minister who is in the United States of America to visit the football and basketball teams ahead of the games said he was properly briefed about the state of affairs in the players' camp by the captain of the team John Mikel Obi and the Consulate in Atlanta. Siasia was totally ignored.
The statement added that the minister said arrangements have been concluded to airlift the team to Manaus, Brazil venue of their first game in a chartered plane today as clearance has also been obtained from the International Olympic Committee IOC in Rio to facilitate smooth flight operations.
The U-23 team were earlier scheduled to travel to Rio last Friday but it was shifted to yesterday before being moved to today again. The frustration, no doubt, would affect their morale and focus as they will now arrive Rio in less than 48 hours to their first match against Japan on Aug 4, 2016. They are in Group B also with Columbia and Sweden.