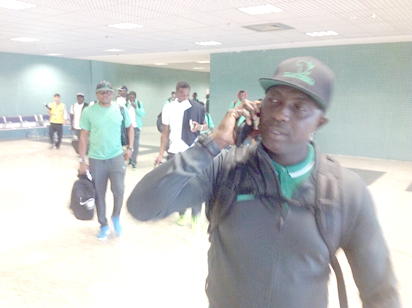 Nigerian Olympic Football Team led by Coach Samson Siasia, arriving Manaus, on Thursday.
By Patrick Omorodion with CNN report
Contrary to  reports that the presidency could have bailed out the U-23 football team stranded in Atlanta, USA by sending a presidential jet to ferry the team to Brazil, the CNN yesterday reported how American airline, Delta Airline assisted the team and saved Nigeria from an embarrassment
of missing their opening game against Japan early this morning.
According to the CNN, the airline which has its headquarters in Atlanta were touched by a video posted by the Nigeria football Federation, NFF of the historic moment 20 years ago in Atlanta on August 3, 1996, captioned: "Our Dream Team won gold in the football event of the Atlanta Olympic games #20YearsAgoInAtlanta."
The airline, it was reported, is temporarily picking up the bills of the charter flight, with an understanding that the NFF will pay them back later. The unfortunate incident, it was gathered was caused by a payment mix-up between the sports ministry and a charter airline firm. The ministry, unlike the usual practice, decided to deal directly with the charter firm instead of appointing an agency which knows the terrain.
"The Nigerian Olympic football team were stranded at the airport and almost not going to make their match against Japan," said Reese McCranie, director of policy and communications for Hartsfield International Airport in Atlanta. The airport decided to work with Delta to make sure the team made its match on time, he told CNN.
Shockingly too, the Delta airline, it was reported, was not only picking the bill of flying the team from Atlanta to Manaus, venue of their match against Japan but also had to put them in a hotel in Atlanta after they were left stranded at the airport.
Stressing that their decision to help the U-23 team out of their predicament came down to a moment's notice, Delta airline spokesman Anthony Black said, "This is a special occasion, not only because it's the Olympics.
Exactly 20 years ago, on this day, the Nigerian football team needed a miracle to beat Argentina to win the gold medal in Atlanta at the Olympics. Today, we are happy to help them with another miracle."
An elated team coach, Samson Siasia who told Delta airline that they chose to train in Atlanta because of the gold they won there 20 years ago expressed his happiness at being in Atlanta and foreshadowed the team's difficulty in getting on a flight.
"Well, we are here [Atlanta], that's a good thing … we are having struggles here and there like every federation but the [Nigerian Football] Federation is behind us to make sure we are prepared well to the Olympics," he said.
Aware the team will arrive only a couple of hours to the opening match, Siasia  said the flight on Delta airline makes the players happy because they "will have more leg room and they will be able to sleep on their way to Manaus."