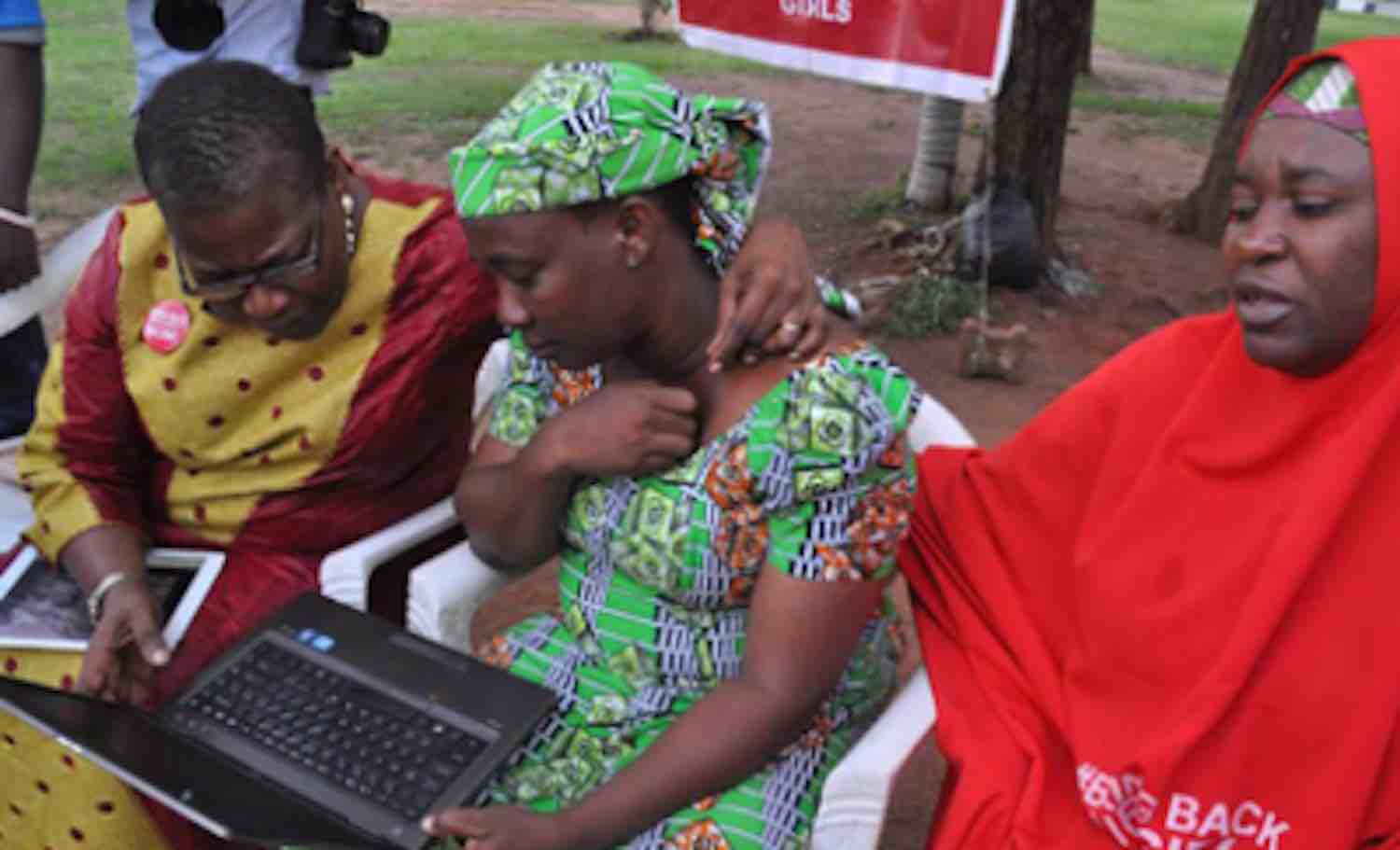 By Kingsley Omonobi, Olasunkanmi Akoni & Omeiza Ajayi
ABUJA—Boko Haram factional leader, Abubakar Shekau, yesterday, released a new video which showed the abducted Chibok school girls, asking their parents to prevail on the federal government to release the sect members held in different detention centres across the country in exchange for the girls.
This came as the federal government said it was doing everything possible to secure the release of the girls and put an end to the horrible saga of their abduction, even as Defence Headquarters, DHQ, said  it was examining the latest video.
The Army also, yesterday, declared wanted, Ahmed Salkida, a Nigerian journalist prominent for his access to the extremist group and two others in connection with the video.
Shekau in the video, also alleged that, while some of the girls had been killed by air strikes launched by the Nigerian Air Force on their locations, at least, 40 others had been married off.
This is the second video released by Shekau within a week as an earlier one revealed threats to attack the Presidential Villa, Chief of Army Staff, Lt. General Tukur Buratai and Army spokesman, Col. Sani Usman.
The video showed a masked armed man standing in front of several girls, who, he claimed, were the over 200 girls abducted from their school hostel at Government Secondary School, Chibok, in 2014.
One of the girls, Maida Yakubu, who spoke in both Hausa and her native language, asked parents to "be patient and beg the government to release their people, so that we will also be released."
On her message to her parents and the federal government, Maida said:  "All I can say is that our parents should be patient, beg the government to release their people, so that we can also be released."
See more Photos: Chibok girls' parents in tears as new video emerges
Maida's mother, Esther, is one of several parents of Chibok girls who recently published open letters to their daughters, detailing the pain they feel at their children's absence and their hopes for the future.
Release our men and get Chibok girls — Shekau
The video message read:  "We thank God for giving us the opportunity to send this message to the parents of these girls (pointing at the girls sitting behind him).
"It pleased God to let us have these girls in our captivity for over two years now. Our first message is to the parents of the girls to let them know that their daughters are still with us, some of them.
"I also want to tell them to ask the Nigerian government to release our brethren, especially those in Maiduguri, Lagos, Abuja and other places across Nigeria. They should be released immediately.
"You all knew that we had the girls, but God never allowed you to know their location and you will never know by God's grace. You keep lying in your media that you will rescue them, they have been with us for over two years, yet you can't even know where they are. You have just been lying about these girls, people should know that.
"Also, for the over two years that we have been with these girls, about 40 of them are married, some are dead as a result of airstrike by infidels. We will show you a video of how your own aircraft dropped a bomb that killed some of these girls. Some of the girls have suffered fractures and other forms of injuries as a result of the air strikes.
"As you can see, these are the girls, all we want is for you to release our brethren otherwise you will never get these girls God willing. This in short is our message to the Federal Government and the parents of the Chibok Girls.
"As long as the government does not release our people, we will also never release these girls, that is our message. I specially informed our people in captivity in Lagos that they should be patient and continue with their prayers, God will take us to where no one expects and we will rescue them. All those in Lagos, Maiduguri and other southern parts of the country. Keep praying, very soon, we will rescue you.
"Let me conclude this message by saying that many people have been coming to us lying that they were sent by the Nigerian government to get the girls released. Let the government and the whole world know that we have not sent anyone to negotiate with the government on our behalf over these girls.  We have dealt with you in the past and you know our recommended negotiators.
If you need to, you should talk to them. We don't use our own people to negotiate with you, we use your own people such as journalists to talk with you. We have not sent any other persons. You know that we prefer to use journalists known to you.
"Let me say again, release our people and we release your girls, otherwise, they will never be released. If you think you have the power to come and rescue them, go ahead and try.
"President Buhari, your Army has been lying to you that they have finished us, let them try and see if they can rescue these girls alive.
FG in touch, working for girls' release
Reacting to the development, yesterday, the federal government, through the Information and Culture Minister, Alhaji Lai Mohammed, said it was doing everything possible to secure the release of the Chibok girls.
Mohammed said in a statement signed by his media assistant, Segun Adeyemi, in Abuja that government was in touch with those purportedly behind the video.
"We are on top of the situation but we are being extremely careful because the situation has been compounded by the split in the leadership of Boko Haram.
"We are also being guided by the need to ensure the safety of the girls.  Since this is not the first time we have been contacted over the issue, we want to be doubly sure that those we are in touch with are those who they claim to be," he said.
Military examines Boko Haram's latest video; disputes allegation of hitting girls
Meanwhile, Defence Headquarters, DHQ, said it was examining the latest video, according to acting Director of Defence Information, Brigadier General Rabe Abubakar.
He said:  "Currently, we are studying the video clips to verify its authenticity and analyzing the comments of the speakers in the video, especially the terrorist member and the girl that spoke in mother tongue"
General Rabe also disputed allegations in the video that some of the kidnapped girls were hit by an airstrike.
"It is extremely difficult and rare to hit innocent people during airstrikes because the operation is done through precision attack on identified and registered targets and locations.
"Precision airstrike is very effective at taking out targeted enemies because it is not a random operation.
"We are nevertheless studying the video clips to examine if the victims died from other causes rather than the allegation of airstrike," he said.
A top air force officer said:  "Nigeria Air Force employs precision guided weapons with modern Intelligence Surveillance Reconnaissance systems to reduce likely collateral damage from any airstrike.
"The entire areas struck throughout the operation were thoroughly monitored on intelligence surveillance and eye services before the attacks or shelling.  Most of the target areas were clearly identified before the air strikes to avoid collateral damage."
Army declares journalist, two others wanted
Meanwhile, Nigerian Army, yesterday, declared wanted, Ahmed Salkida, a Nigerian journalist prominent for his access to the extremist sect, and two others, in connection with the video.
Also declared wanted were Ahmed Bolori and Aisha Wakil.
The Army in a post on its Twitter page, explained:  "There is no doubt that these individuals have links with Boko Haram terrorists and have contacts with them.
"They must, therefore, come forward and tell us where the group is keeping the Chibok girls and other abducted persons to enable us rescue them."
The army said it was relying on relevant laws of the country, especially the Terrorism Prevention Act 2011, to declare the two men and the lady wanted in connection with Boko Haram.
"We are, therefore, calling on all Nigerians and peace loving people to give us useful information on their whereabouts. We are also liaising with other security agencies for their arrest if they failed to.
Ms. Wakil, a lawyer, was in contact with the federal government during the 2013 amnesty negotiations with the Boko Haram insurgents. She is believed to have met with former President Goodluck Jonathan at the time as part of the negotiation, which later broke down.
Bolori is known as coordinator of the Fa'ash Foundation and the Partnership Against Violent Extremism, Pave.
We'll march to Presidential Villa —#BBOG
Reacting to the new video, Bring Back Our Girls, BBOG, advocacy movement at a special sit-out of the movement, yesterday, in Abuja, expressed its resolve to march on the Presidential Villa in the coming days, except the federal government scaled up efforts at rescuing the girls.
The group in a statement signed by its leaders, Oby Ezekwesili and Aisha Yesufu, said in part:   "853 days since the abduction of our Chibok Girls, we woke up to a video on the state of our girls. We are left with mixed feelings of grief and strengthened hope as the chilling words continue to sink in.
"Today, 28 months since the abduction, we call on the governments of the United States, United Kingdom, Canada, France, China, Australia, Israel, agencies like the United Nations and African Union, and all who previously expressed intentions to support the rescue efforts, to reengage and adopt a strategic rescue position. As global citizens, this is the least our #ChibokGirls deserve."