By Innocent Anaba
LAGOS—A presidential candidate in the 30 and 31, July, 2016 national election of the Nigeria Bar Association, NBA, Mr Joe-Kyari Gadzama, SAN, has told an Abuja High Court that he polled 2,963 votes in the association's presidential election rather than the 2,384 announced by the electoral committee.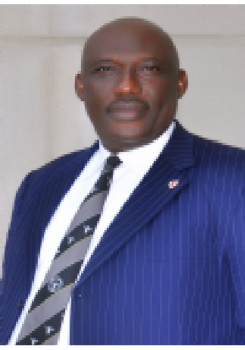 He said that his challenger, Abubakar Mahmoud, SAN, who was said to have won the election with 3,055 votes, actually polled 2,465.
Gadzama, in his statement of claim averred "That contrary to the result declared by Mr. Kenneth Mozia, SAN, Chairman, Electoral Committee of the NBA, ECNBA, at the close of voting, at 12:00 midnight on July 31, 2016, the result of the 2016 NBA election as it relates to the office/position of the President, as collated from and contained on the official voting domain/platform was as follows: Joe-Kyari Gadzama, 2,963; Abubakar B. Mahmoud, 2,465."
When the case came up last week, the court granted an ex-parte order for service to all the defendants by substituted service. The court, however, declined to grant a restraining order but directed that all the parties should be put on notice to come to court and defend themselves. The court adjourned till August 25, for hearing on the matter.
Gadzama averred in the suit that  he consulted ICT experts who, with the aid of advanced reporting tools, accessed the stack-trace, logs and other database files on the host server of the voting system.
He said it was discovered that the election portal was set up on more than one domain, contrary to established standards and international best practices.
Besides, he said there were multiple administrators/webmasters, who accessed the backend of the portal and remained active throughout the period the voting lasted, contrary to established standards and international best practices.
Gadzama alleged that there was continuous manipulation of data on the system throughout the period the voting lasted contrary to established standards and international best practices and which compromised the integrity of the outcome.
The plaintiff said the process was "completely compromised" by the deployment of two voting platforms – https://election.nba-agc.org, which was the official portal, and ttp://www.nigerianbar.org.ng.
"Voters were casting their votes on two different portals/domains, contrary to the Election Guidelines released by the ECNBA and international best practices. It amounts to, if voting was to be by manual ballot, different voters casting their ballots in two different ballot boxes but for the same office," Gazdama said.
Defendants in the suit are the Incorporated  Trustees of the NBA , including Abdullahi Ibrahim, SAN, Chief Wole Olanipekun, SAN,  Thompson Okpoko, SAN, Chief Priscilla Kuye,    Alhaji Murtala Aminu And Chief Anthony Mogbo, SAN.
Others are the  Chairman, NBA Electoral Committee Mr. Ken Mozia,  Mr. Oluwaseun Ajoba (Secretary, NBA Electoral Committee) electoral committee members Hajia Safiya Balarabe, Mrs Amaka Ezeno, Mrs. Eucharia Pepple, Grace Infotech Limited, NBA president Mr. Augustine Alegeh, SAN and Mahmoud.
Gadzama is contending that,  Mozia, Managing Director of Grace Infotech Mr.  Ope Olugasa and Alegeh "left the plaintiff's poll agents and others in the Situation Room at the NBA Secretariat in Abuja, went to a separate room to 'audit' the results."