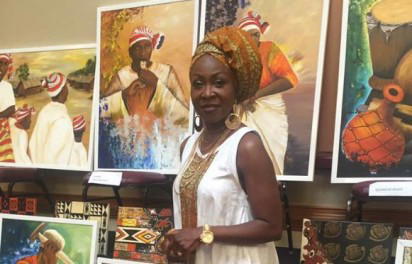 Vivian Timothy
Multiple Award-winning and Germany based Nigerian Artist; Vivian Timothy has in recent times gone far and wide in showcasing her paintings. On July 1st, Vivian exhibited her paintings in Austin, Texas, USA.
Her paintings are deeply entrenched in African roots and lifestyle in a uniquely beautiful way. Her originality and metamorphic vision enriched her passion and love for her African continent making her paintings speak and interpret implicit and explicit messages to the world.
We cannot get over how good the Global Africa Women's week launch was. On Monday, 4th July, 2016, the UK Houses of Parliament hosted the launch of Global African Women's week (GAWW) on the theme "Giving back the voice".
Vivian Timothy exhibited her mind-blowing paintings which earned her a standing ovation. The guest of honour was none other than Africa's first Female President and former President of Malawi Dr, Mrs Joyce Banda.
Addressing the participants, the former female President said women should know that the time has come to be at the forefront, opining also that men have a key role to play in this process, as it should not be seen as a celebration of some kind of afro-feminism. There would be no women empowerment without the inclusion of men.
She noted that Women leaders in Africa is not a recent issue. Indeed, it has always existed. There used to be great women ruling Empires like Cleopatra, Queen of Sheba or Anna Zingha in Angola… The Theme Picture: "A Traditional Malian Woman" painted by the hardworking and talented Vivian Timothy, was a hit.
On describing the painting, Vivian said: "The traditional Malian women with the big earrings represent the beauty and the strength of the African woman. The painting represents and speaks for these forgotten and suppressed voices of the rural, and the African women in general. The "modern day" African woman, does not want to stay in the dark anymore. We don't want to be taken for granted any longer. We want to speak for ourselves and participate strongly in decisions concerning homes, communities and our nations at large".
"The other four paintings she exhibited project how strong and hardworking an African woman is, she said, she uses these to remind the society that it is these rural African women that raised the strong men and women in our nations. All these Presidents, bureaucrats and technocrats, leaders of all classes emanated from these women. Whether we like it or not, these are the voices that shaped and moved the world and are still moving it. So I speak for you with my paintings "YOU beautiful ever happy dedicated lost Voices".
The MODERN Day AFRICAN WOMAN she also said, "is a president, a minister, a director, a leader. She is an artist, an entrepreneur, a mentor, a friend. She is a mother and a wife. She is multi-talented and above all, she is a happy woman".
In a full committee room decorated by Vivian Timothy's masterpieces, highlighting multiple aspects of the African woman's strength, participants came to share their ideas and all seemed ready to change the world. On her vote of thanks, the hardworking artist, Vivian Timothy appreciated Dr. Pauline Long, the founder and convener of the GAWW (Global African Women's week) for creating an opportunity for African women to have a platform to connect, exchange and support one another at a global scale and also giving a helping hand to the less privileged.
""When Dr. Pauline Long asked me to do this with her I was so thrilled because I believe in the power of "WE". She further said; An African proverb says," If you want to go fast, go alone but if you want to go far, go together". This she said, is a unique quality that Dr. Pauline Long has. Pauline believes in the mighty force of great minds working together, Vivian concluded.
Among the dignitaries that responded to Dr. Pauline Long's call are Femi and Roucheon Iloyi, founders of Feromedia and their lovely kids, Mama Charlotte founder of the NGO, Mothers of Congo, Delia Innoma, CEO Diamond Celebrities Magazine Germany, Robin Marsh of UPF, Ikanyeng Molemele Moipolai, CEO of Destiny Organisation, African Beauty Queens, Dr Alistair Soyode CEO BEN TV, Faustina Anyanwu Chief Editor C. Hub magazine, Clara Meierdierks, German Based Author, Nigerian philosopher and Author Eze Ihenacho and many more outstanding personalities who shared their experiences and hopes.
Könnigsbrunn Town in Germany would be hosting her "Back to the Roots" exhibition, on the 1st of August, 2016. Once again, Art unleashed Vivian Timothy, would be making Nigeria proud with her heavily laden African accent artworks and with stories of her culture and heritage.