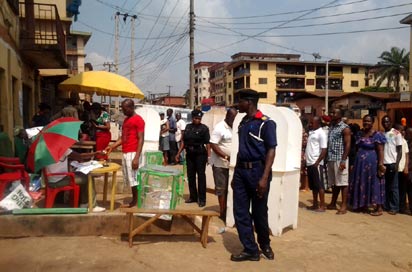 *Voting in progress at Obosi road polling booth in Nkpor Ward II in Idemili North LGA. Photo: Tony Edike
By Ikechukwu Nnochiri
ABUJA – The National Human Rights Commission, NHRC, on Thursday, released list of persons, government institutions and security agencies it said were involved in widespread electoral fraud that marred the 2007 and 2011 general elections.
The Commission, in the report it issued at its National Headquarters in Abuja, included the Independent National Electoral Commission, INEC, one of its former Chairman, Prof. Maurice Iwu and the former governor of Delta State, Dr. Emmanuel Uduaghan, in the list.
Equally named on the list was a former Governor of Edo State, Prof. Oserheimen Osunbor, 2015 governorship candidate of the Peoples Democratic Party, PDP, in Benue state, Mr. Terhemen Tarzoor, former Acting Governor of Kogi State, Clarence Obafemi, a former Senator for Kebbi South, Maj.-Gen. Tanko Ayuba (retd), and also a former Senator for Ekiti North, Ayo Arise.
The NHRC which presented the report through its Executive Secretary, Prof. Bem Angwe, further indicted many INEC officials, the PDP, as well as two defunct political parties- the All Nigerian Peoples Party and Action Congress of Nigeria.
The Rights body maintained that those that made the list had also been indicted by various election petition tribunals and appellate judicial bodies that presided over electoral disputes that emanated from the 2007 and 2011 elections.
It said that it has already forwarded a comprehensive list of the electoral offenders to the Attorney-General of the Federation and Minister of Justice, Mr. Abubakar Malami, SAN, for prosecution.
The report was titled Phase 1 of the Final Report of 'An Independent Review of Evidence of Gross Violations of the Rights to Participate in Government, to Public Service, and to Fair Trial Through the Election Petition Process in Nigeria 2007'.
According to the NHRC boss, Angwe, "Unless steps are strengthened to deal with electoral impunity, the right to vote and be voted for and related rights will continually be infringed upon with adverse consequences on democratic governance in the country".
He urged political parties which he described as critical stakeholders in the electoral process in the country, to always scrutinise the candidates they present to for an election.
In his remark, Chairman of the Technical Working Group, TWG, which packaged the report, Nsoguruwa Udombana, said the group conducted public hearings in Port-Harcourt and Abuja in July 2014 which led to the 284 pages of the report.
"From the initial review of the cases, the TWG identified 200 cases of various infractions of the right to participation in government. Out of these, at least 81 cases contained specific indictments against named persons or institutional actors, including INEC, some political parties, their agents, some politicians, security agencies, lawyers
and even judicial officers".