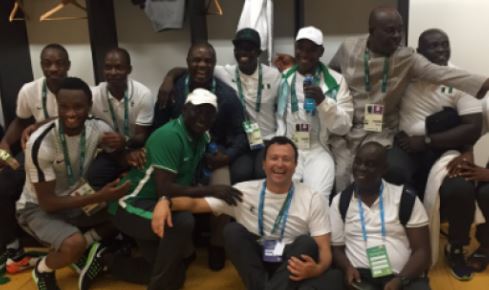 Dalung in a group picture with the team
Minister of Youth and Sports, Solomon Dalung, has on Monday apologised to Nigeria's players and officials of the Olympic football team over issues surrounding the contingent's late arrival in Brazil.
The minister tendered his apologies to the dream team in the dressing room after they defeated and progressed to the quarter-finals at the Men's Olympic Football Tournament Rio 2016 with a 1-0 victory over Sweden.
His words "I want to apologise for all the circumstances that led to your late arrival here.
"I apologise because I am the head and as such I must take responsibility for anything that happen under my watch.
"I am happy you all have put the unfortunate incident behind you and have shown that you are true heroes by making the country proud with your qualification for the quarterfinals.
"This qualification is unique as you guys are the first team to do so in the football event. I want to assure you that we appreciate your efforts, and I want to say that it's when a man faces challenges that his true ability is tested.
"I am sure we all have learnt our lessons and will take the lessons to heart going forward."
Dalung recalled that the team faced similar challenges on the way to winning the Africa U23 Cup of Nations in Senegal last year, where they qualified for the Olympics.
He then assured the players and officials that all bonuses and allowances due to them will be paid.
Responding, team captain John Obi Mikel assured Dalung that the team will not lose focus, as their target is to win the gold medal.
The sports minister was in company of Adamu Emozozo, Nigerian ambassador to Brazil, and Chinyeaka Ohaa, permanent secretary in the ministry.