By Sola Ogundipe
AS part of its commitment to ensure comfortable life for Nigerians, particularly nursing mothers and their newborns, Vitafoam Nigeria Plc recently introduced innovative   mother-and-child-friendly aids aimed at enhancing the experience of breastfeeding.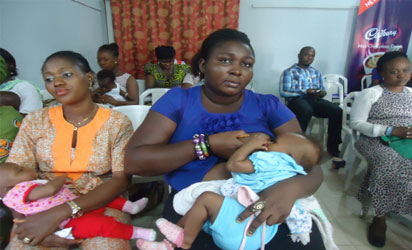 Speaking in commemoration of the 2016 Breastfeeding Week, the company's Group Managing Director, Mr Taiwo Adeniyi, pointed out that many mothers have developed the habit of not breastfeeding their babies in the appropriate manner.
He said they stop breastfeeding early due to complaints ranging from  physical discomfort and the embarrassment of  carrying out the act in public, to lack of societal acceptance. Adeniyi,who noted that such  concerns were genuine,  argued that such women required moral and societal support.
His words: "It is indeed apt that the theme of the 2016 World Breastfeeding Week is Breastfeeding: A Key to Sustainable Development". Quoting a joint message from UNICEF and the World Health Organisation, WHO, on the theme, Adeniyi said: "Breastfeeding is one of the most effective and cost effective ways to save and improve the lives of children everywhere, yielding lifelong health benefits for infants and their mothers.
He said as a proactive company that places premium on customer satisfaction, Vitafoam had designed and produced the mother-and-baby friendly products at affordable prices. The products, including pregnancy support pillows, baby cots  breastfeeding support packs and Baby Playmates. are specially produced to help mothers and baby during pregnancy, birth and lactation.
"In order to eliminate mothers' discomfort with nursing in the public, we have designed and produced Vitafoam breastfeeding aids as a result of sexualisation of breasts with Vitafoam Breastfeeding Cover, nursing mothers can breastfeed their babies comfortably anytime anywhere," he stated.
He identified increased abdomen and tender breasts, backache, heartburn and shortness of breath as some of the usual challenges of pregnancy.
Following a  practical demonstration of the use of the breastfeeding cover, Adeniyi said the sleeping aid is produced to promote a restful sleep for expectant mothers. "The Vita Pregnancy Pillow is a a specially designed body pillow for expectant mothers. It  helps support the back and hips in a resting position thus giving the desired total body comfort," he said.
In partnership with many institutions including tertiary hospitals,  as well as the private and public hospitals, and NGOs among others, Vitafoam has been creating awareness on the essence of breastfeeding.
Already the Wife of the Lagos State Governor has adopted some of the aids which are being distributed free of charge, as part of the pet project of eliminating the challenges of breastfeeding, even as the Wives of the Governors of some other states are set to endorse the scheme.
He urged Federal Government to create an enabling environment where manufacturers could access forex through a special window in order to enable them purchase raw materials.