By Emeka Aginam
The Chief Executive Officer of indigenous renewable energy company, Arthur Energy Technology Limited, Arthur Anthony Okeyika has disclosed plans to invest to invest Five hundred million naira in Nigeria's first solar powered vehicle assembly plant set to be built in Akwa Ibom.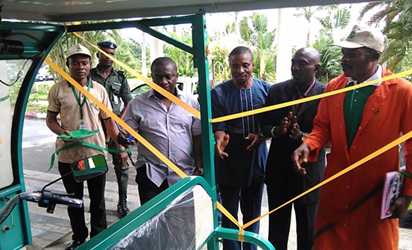 The ground breaking solar vehicle assembly plant which will be commissioned in Uyo, in collaboration with the Akwa Ibom state government on completion is projected to generate over twenty thousand direct and indirect employment for Akwa-ibom youths in the first five years of the plant's operation.
Okeyika who dropped this hint while speaking to newsmen on the future of auto-mobile transport in Nigeria at the just concluded 1st Akwa Ibom Climate change and energy summit held in Uyo recently said that, "We cannot ignore the "green" market potential of Nigeria particularly now that we're faced with our current economic realities.
Fossil fuel as sole energy source for Nigerian cars, homes and industries is not a sustainable option if the conversation on nation building is to be taken serious. We need an integrated solution to power our lives for the future and at Arthur Energy Technology limited we believe the solution is solar power,"
The internationally acclaimed solar power specialist also announced his company's long term investment plan in 'clean' transport, stating the reinvigorated push for "Clean Development Mechanism" (CDM) by state governments, international agencies and private sector to deepen the CDM market in sub-Saharan Africa as a welcomed development. In his words:
The CEO Arthur Energy Technology said his company was consolidating its focus on solar power to attract local and foreign investment in Nigeria's burgeoning renewable energy market
"As a continent, Africa only enjoys 1.4% of the 3,700 CDM projects worldwide and the only way to attract foreign direct investment in renewable energy is to create an enabling environment which will encourage international investors.
Arthur Energy Technology limited has set out to build Nigeria's first solar powered vehicle assembly plant in Akwa Ibom and we are committing half a billion naira in capital fund for this project," , he said.