Nigerian heads to Canada for professional boxing
Superheavyweight Boxer, Efe Ajagba's dream of an Olympic Boxing medal has ended his Rio but his desire of turning professional has been ignited.
Giant Kazakhstan boxer, Ivan Dychko's unanimous points decision at Pavilion 6 at the Boxing arena of Rio not only ended Efe's Olympic medal dream but has hastened his decision to move into the paid ranks of Boxing in Canada.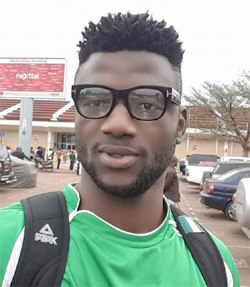 Moments after recovering from the shattering blow of giving Nigerians another knockout to inch into the medal zone, Efe lamented the giant size of the Kazakh made it impossible for him to go through.
'I wanted the knock out in all my fights so as to leave nothing to chance. But the further you go in the competition the more skilful your opponents and the more difficult it becomes to put them away'', Ajagba said.
And the pursuit for knockout blinded him from picking points as the taller boxer picked points to romp into victory.
''This is the first time I am fighting a boxer who is taller and bigger than me. And he kept moving away. He did not allow me to deliver a devastating punch'', Ajagba agreed. And that was a grave mistake in this weightiest of divisions to concentrate on knockout when your opponent was hitting target and scoring points after points.
The Nigerian despite the disappointment poured encomiums on his coach, Anthony Konyegwachie for guarding him so far. ''I had only one coach when other boxers had three coaches. My coach was my pillar. He did a lot for me, fasting and praying.
I thank him but I have to move up to the professional ranks. I have a bigger future in professional boxing'', he said at the mix-zone.
Konyegwachie apologises for Ajagba's loss, cries out Coach Anthony Konyegwachie has apologised for the loss of his ward, Efe Ajagba in the quarter final round against Kazakh's Ivan Dychko.
''We promised a knockout before the fight but it did not go that way. I am sorry. His opponent was also a tough boxer and ranked number two. No excuses, he was a better boxer of the night. I only need to apologise to millions of Nigerians who waited and prayed for our success'', the coach said.
He however blamed inadequate preparation for the loss of Ajagba. ''He is the only boxer brought here by Nigeria. The weight was too heavy on him. He had no sparring partner and we did not come with anyone.
He trained alone. Ajagba is a good boxer. If he had everything to prepare, it won't have ended this way. All the same, I apologise to Nigerians and pray for better preparation next time''.