By Ebere Aham & Cherechukwu Okoye,
The Lagos State Police Command has arrested a 60-year-old man and two others alleged to have repeatedly gang-raped a 13-year-old primary six pupil until she became pregnant, in Majidun area of Lagos.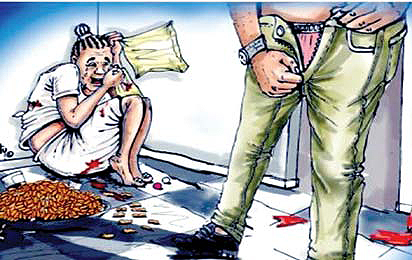 There is, however, a twist to the rape saga as the victim's mother has raised the alarm over threat to her life by the suspects: Baba Ijebu, 60, Kingsley and Henry, for reporting the matter to the police.
The suspects, who all live in the same area with the victim, were alleged to have been sleeping with her since May. As at yesterday, the teenager, identified simply as Ijeoma, was said to be three months pregnant.
A resident, who spoke on condition of anonymity, disclosed that "she was raped consistently by these three persons. They usually slept with her whenever her mother went for vigil and at the end, they would give her N100 or N200."
The bubble burst after a neighbour, who discovered the ongoing abuse of the teenager, advised her to tell her mother but she was said to have declined, arguing that her mother would kill her.
Speaking with Vanguard, the victim's mother, who refused to disclose her name, said she became suspicious after she noticed some changes in her daughter and when taken to the hospital, she was discovered to be three months pregnant.
She said: "They were arrested by policemen at Owutu Division, but released. Now they are threatening me for reporting to the police. Kingsley and Henry live in the same compound with us, while Baba Ijebu lives at the opposite compound.
"Baba Ijebu offered me N1,000 to take care of my pregnant daughter, but I did not collect it. Kingsley claimed he only fingered my daughter."
'I was charmed'
The primary six pupil said: "The first time was with Uncle Kingsley. That night I was passing in front of his room, when he said he wanted to send me on an errand.
"Immediately I entered his room, he closed the door and when I asked him why he did that, he carried me to his bed and slept with me.
"The second man is Baba Ijebu. I went to his place to collect one of the things we used to make soap. When I got inside, he touched me with something in his hand and I did not know what happened until I found myself in his bed with my pants off, while he was beside me. "Immediately I realised this, I cried and shouted, but he said I would die if I told anyone. The third man's name is Henry. In his case, he called me into his room and said that my mummy sent him to me. But when I got to him, he pinned me to his bed and raped me. I shouted, but nobody was there to help me. I couldn't tell my mummy because I was afraid she would kill me."
Meanwhile, Project Director, Community Women's Right Foundation, Alhaji Lateef Akinborode, has vowed to get justice for the 13-year-old girl and her mother.
He said: "It is unfortunate that people are taking advantage of the less-privileged in the society, and by God's grace, we will see this case to its logical conclusion by making the offenders serve as deterrents to others."