Governor Nyesom Wike of Rivers State has stated that Nigerians are yearning for the return of the Peoples Democratic Party, PDP, following the failure of the ruling All Progressives Congress, APC to deliver democracy dividends.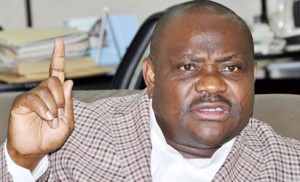 Governor Wike further declared that APC will lose the rerun elections of July 30, 2016 in Rivers State, even if Chief John Odighie -Oyegun conducts the elections as returning officer.
Speaking during a solidarity visit by the Grassroots Development Initiative (GDI) Worldwide, Governor Wike said: "It is obvious that Nigerians are yearning for the return of the PDP.
"No amount of intimidation will change the support of the people for the PDP. Nigerians are wiser now".
The governor said his superlative performance in the course of his first year has expanded his support base across Rivers State, making the PDP the preferred choice of the people.
He pointed out that irrespective of the resident electoral commissioner who conducts the rerun elections in the state, the APC candidates will continue to lose because the people understand that the APC cannot deliver development projects.
The governor noted that the APC Senatorial Candidate for Rivers South East promised Ogoni people projects during his sojourn in political office, but delivered none.
He said: "We promised the Ogoni people during the campaigns and today we are dualizing the Sakpwenwa-Bori road and rehabilitating the Birabi Memorial Grammar School, Bori. Therefore, the Ogoni people know the political party that is committed to their welfare ".
He commended the GDI for working with the PDP to ensure the victory of the choice of the people during the 2015 elections.
Earlier, the President General of GDI, Mr Bright Amaewhule praised Governor Wike for using his mandate to improve the living condition of the people.
Subscribe for latest Videos