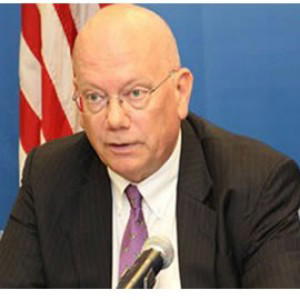 James Entwistle
By Victoria Ojeme
The outgoing Ambassador of the United States (US) to Nigeria, Mr James Entwistle, has stated that the US has no hidden agenda to stop its crude oil purchase deal with Nigeria.
According to the Entwistle, there is no conspiracy by the US not to buy oil from Nigeria.
He spoke, Saturday night, while fielding questions from newsmen during the 240th Anniversary of the US Independence organised at the embassy in Abuja.
The envoy explained that the price of oil is determined by international market and that the desire of every business person is to get the best product at the best price.
He said: "I take great offence to your question. There is no conspiracy by the US not to buy oil from Nigeria. Price of oil is determine by international market and any business people gonna go to get the best product for the best price. That something happens to us with our oil! But I wish you listen to my last statement where I talked about the importance of the private sector, the commitment of the US companies to help build this country (Nigeria)."
On how the present government could revamp the nation's dwindling economy, Entwistle urged the Muhammadu Buhari-led government to create an environment that would attract more foreign investment into the country.
"I am not much of an economist but I think the government is starting in the right direction and things like fuel subsidy, exchange rate, things like that, I will encourage them to continue to create an environment that is welcoming to foreign investment. Some of the biggest US companies in the world are here, they've been here for decades, they are happy. So it's better to maintain an environment that will attract more foreign investment," he said.
On his reaction to the controversial sex scandal against the three House of Representatives members, the ambassador simply said: "I have nothing to say about that."
Earlier in his speech, the envoy, who pointed out that the US has maintained a robust engagement in Nigeria for many years, said the future of Nigeria belongs to the people of Nigeria.
Quoting former President John F. Kennedy of the US, Entwistle said: "Ask not what your country can do for you—ask what you can do for your country."