US President Barack Obama steps onto the Democratic convention stage Wednesday to champion former political foe Hillary Clinton, defend his own legacy and bury Donald Trump's chances of reaching the White House.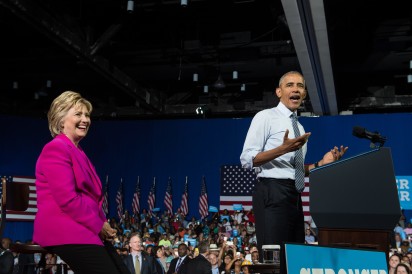 But Trump launched a pre-emptive attack at an incendiary press conference, contemptuously putting down Obama as a "disaster" and making a provocative call for Russia to hack Clinton's email.
It came only hours before Obama was to take the stage at the Democratic National Convention to make the case that America's first black president should be followed by its first female president.
Clinton on Tuesday became the first woman to win the presidential nomination of a major US political party, teeing up the November showdown with Republican Trump.
Democrats had "put the biggest crack" yet in the glass ceiling for women, she said in a video message to the convention.
Delegates earlier heard a deeply personal testimonial from former president Bill Clinton, who described a great friend, wife and mother who suffers the slings and arrows of politics to be "the best darn change-maker" Americans could hope for.
The current commander-in-chief is likely to offer a harder edge.
Expect Obama to "focus on how secretary Clinton has the judgment, the toughness, and the intellect to succeed him in the Oval Office," said White House spokesman Eric Schultz.
– Dimming limelight –
In the twilight of his second term, Obama faces ever-dwindling opportunities to address the nation, mold his legacy and influence the 2016 race.
But on Wednesday, the 44th president has a prime-time chance when he appears before thousands of delegates in Philadelphia and tens of millions of viewers at home.
The White House says Obama has been working on his speech for weeks.
Yet this touchstone presidential moment has been a decade or more in the making.
The address will bookend Obama's career-launching address to the Democratic convention in 2004, his contentious 2008 primary battle with Clinton and his eight years in office.
Aides said Obama will make a familiar case for what has been achieved during his two terms, highlighting America's recovery from the Great Recession.
Obama will also try to leverage his vast popularity among Democrats to unify a party scarred by the bruising primary campaign between Clinton and leftist Bernie Sanders.
The four-day confab in Philadelphia — the City of Brotherly Love — has so far been less than fraternal.
Despite entreaties from party leaders, Sanders' supporters have booed a pastor who mentioned Clinton's name and even jeered Sanders when he did the same.
Having fought his own bitter primary against Clinton eight years ago, Obama could offer a conciliatory message.
But so far in the campaign, Obama's most potent role has been as a foil to Trump.
Early Wednesday he told NBC that while "anything is possible" when it came to November's election, Trump appeared unprepared.
"What I think is scary is a president who doesn't know their stuff and doesn't seem to have an interest in learning what they don't know," he said, referring to Trump.
Trump hit back at a press conference near Miami, essentially inviting Russia to hack into Clinton's email, and deriding Obama as "the most ignorant president in our history."
"Russia, if you're listening, I hope you're able to find the 30,000 emails that are missing," Trump said, referring to emails Clinton sent and received while secretary of state but deleted on grounds they were personal and not work-related.
The FBI concluded this month that Clinton had been "extremely careless" in her handling of classified material via a private email server, but did not recommend that she face criminal charges.
Republicans see the missing emails as a smoking gun, however.
Clinton's campaign fired back: "This has to be the first time that a major presidential candidate has actively encouraged a foreign power to conduct espionage against his political opponent," spokesman Jake Sullivan said.
"This has gone from being a matter of curiosity, and a matter of politics, to being a national security issue."
– Contrasting Trump –
Obama has already tried to convince voters that Trump does not have the judgment or demeanor to be commander-in-chief.
The 44th president has contrasted the seriousness of the task at hand — fighting the Islamic State group, addressing high levels of gun violence, healing racial divides — with the tone of Trump's insult-laced populist campaign.
Delegate-goers got another dose of that message on Monday, when First Lady Michelle Obama spoke.
"I want someone with the proven strength to persevere, someone who knows this job and takes it seriously, someone who understands that the issues a president faces are not black and white and cannot be boiled down to 140 characters," she said.
While the White House has posited a Clinton win as a third Obama term, a Trump presidency would almost certainly undo key parts of Obama's legacy.
Subscribe for latest Videos