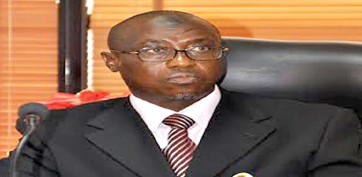 NNPC Boss, Baru
ABUJA — The Federal Government lost approximately $518 million to oil swap and Offshore Processing Agreements, OPAs, in 2013 due to inefficiencies of the Nigerian National Petroleum Corporation, NNPC, and its subsidiaries.
Consequently, Executive Secretary of Nigeria Extractive Industries Transparency Initiative, NEITI, Mr. Waziri Adio, who disclosed this in an interview with Economic Confidential, weekend, said the Economic and Financial Crimes Commission, EFCC, would soon commence investigations into the matter, with a view to prosecuting major culprits for appropriate sanctions over the revenue losses.
He said the federation lost $211.88 million to crude for product swap and $306.16 million of OPAs, totaling $518 million.
Adio, who spoke against the backdrop of the just released 2013 Oil and Gas Industry Audit report, noted that the NNPC and its subsidiaries also withheld some of the monies due to government.
He said:"For instance, they withheld $3.8 billion and N358 billion respectively. Now, let us break it down this way. If you remember, NNPC divested some of its interests in Shell Joint Venture, JV, about eight Oil Mining Leases, OMLs, to Nigeria Petroleum Development Company, NPDC, $1.29 billion from NLNG; N354bn from unpaid domestic crude debt; N3.98 billion from subsidy over-recovery in 2012 and N2.17 billion from cash-call refunds."
$4.7bn discovered from theft, vandalism in 3 JVs
Adio said the report discovered $4.7 billion from theft and vandalism in three JVs, including Shell, Agip and Chevron; and N20 billion from not observing 90-day credit time value of money at 12 per cent, adding that issues captured still needed further elaboration.
He said: "Now, NNPC divested 55 per cent  in eight assets, OMLs, in Shell JV: OMLs 4, 26, 30, 34, 38, 40, 41, and 42.
"They were valued by Department of Petroleum Resources, DPR, at $1.8 billion, but according to PriceWaterhouse Coopers, PWC, they should have been valued at $3.4 billion, given that Shell got $2.72 billion for its 45 per cent interest in those same assets.
"This then means that Shell's 45 per cent valued at 47 per cent is higher than the federation's 55 per cent. Let us look at it another way. Given the disparity between $3.4 billion and $1.8 billion, assets were valued at 47 per cent loss or discount.
"But even with discount or loss, NPDC paid only $100 million, leaving an outstanding of $1.7 billion. This means that NPDC paid only 5.6 per cent of the discounted value of $1.8 billion, and three per cent of actual value of $3.4 billion and yet enjoyed all the benefits, as oil from those assets lifted on behalf of NPDC and not the federation."
4 assets under NAOC
Speaking on the four assets under the Nigeria Agip Oil Company, NAOC, the Joint Venture, JV, which similarly divested OMLs 60, 61, 62, and 63, Adio noted that no valuation was done on the 4 OMLs, neither  was consideration paid and that, yet, oil was lifted on behalf of NPDC, not the federation.
He said despite the fact that 12 OMLs in the Shell and Agip JVs divested to NPDC, and not fully paid for or not paid for at all, NAPIMS paid cash-calls on some of these OMLs, namely $536 million paid as cash call on the 4 OMLs from Agip JV; $389 million refunded to NAPIMS, but refund not remitted to the federation, apart from an outstanding of $147.8 million not paid at all.
"There are cash-calls also paid on some of the divested OMLs from the Shell JV, which include $35.12 million refunded to NAPIMS, but refund not remitted to the federation.
"Records from NAPIMS showed request for refund of $414,000 and N249,272,000 on OML 25, apart from request for refund of $2.17 billion on OML 42. You can't imagine that these requested refunds were not made as at close of audits."
EFCC to investigate, prosecute culprits
Adio further disclosed that NEITI was engaging the EFCC for further investigations and sanctions on the culprits.
He said: "The NEITI Act criminalizes some behaviour and even put sanctions either in terms of fines and jail terms or both but did not give us powers to prosecute."
"That is why we are engaging the EFCC. The acting Chairman of EFCC has pledged to set up a joint investigative team from both sides to come together and look at possible infractions."