Former Military President, Gen. Ibrahim Badamasi Babangida (IBB), has hailed the leadership style of the Speaker, House of Representatives, Rt. Hon. Yakubu Dogara, saying the House leadership led by Dogara  "has a unique advantage which we never had. While we were analogue, you are IT- compliant."
This is contained in a statement on Sunday, in Abuja by Dogara's Special Adviser on Media and Public Affairs, Turaki Hassan.
Hassan quoted Babangida as saying it when he received members of the House of Representatives led by the speaker in his Hilltop residence in Minna on Saturday.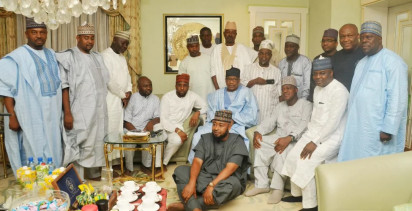 IBB described the Dogara-led House of Representatives as committed and dedicated, urging the lawmakers to continue to display commitment and dedication to their duties.Hassan quoted IBB as saying, "I am grateful that you've found time to be with us this evening. I'm elated that you and your colleagues have had time to pay this visit. It is always nice to see you all and the way you conduct yourselves for the purpose of piloting the affairs of the nation.

"You can see knowledge and commitment being displayed during your various debates. Sometimes, tempers may rise but the ability to control situations is the hallmark of democracy; I want to commend the whole house for doing a good job. I think you have a unique advantage which we never had. While we were analogue, you are IT- compliant.

"I want you to please keep it up. I want to commend and congratulate you, Mr. Speaker, for your very able leadership and I hope you will continue to do the country proud. I want to thank you once more for coming to visit."

On his part, Dogara emphasised the need for inter-generational interaction in order to make progress by learning from the past.

He said: "We are here to pay our respects. For us to make progress in this country, there has to be a meeting point between the past and the present, and seeking counsel helps us to be better guided."