…bags first class degree in Ghana
By Sam Eyoboka
UFUOMATOMA Kwakpovwe, 26, was registered to read Pharmacy at the Uni-versity of Port Harcourt and was doing just that when four demon-possessed gun-toting yet-to-be-identified hood-lums attempted to kidnap him and the attendant emotional trauma truncated that dream forcing his parents to relocate him to Ghana to continue his studies there. Ufuomatoma, Toma for short, is the second son of the publisher of Our Daily Manna and founder of The Manna Prayer Mount-ain Ministry, Orioke-Ogudu, Lagos, Bishop Chris Kwakpo-vwe.
Last Sunday, a joyous father assembled gaily-dressed friends, relations and other well wishers from Delta State and around, to a special thanksgiving service at the Manna Prayer Mountain to celebrate Toma who had just bagged a First Class degree in Management and Compu-ter Science.  The joy knew no bounds as the church choir and Toma's six-man acapela group treated guests to popul-ar gospel songs including several in Ghanaian langua-ges.
The service attended by the guest speaker, Archbishop George Amu of Goodnews Miracle Church, Lagos, former Board member/PRO, SSO of PFN, Pastor Femi Adura, and a host of other religious leaders also began the countdown to the 14-day fasting and prayers in preparation for the July 23 Anointing Service scheduled for the Prayer Mountain. At the end of the service, the bishop announced that there was plenty to eat and drink and of course the crowd waited patiently.
Narrating the family's grass-to-grace story, the OAU-trained pharmacist turned gospel preacher and publish-er, Bishop Kwakpovwe said several years ago before the birth of the daily devotional, "we went through severe battles that I attempted commiting suicide by hang-ing. My plan was just to make sure that the children go to school so I can end it all before they return. I bought a rope and was about to hang myself but I heard a voice telling me, 'all you've been through all these years; is not unto death but unto destiny fulfilment of millions.' I didn't know what it meant. He said you shall rise from a burden for the people, He said 'I've passed you through so that you can now help those who are passing through'.
I didn't understand because I'm a pharmacist and not a pastor or a writer. He said you will write. That was how ODM was born. I heard the name Daily Manna but my wife added the 'Our' to it. But after a while, though we started gradually first on a piece of paper in pamphlet form of about four pages. We did that for about a year or two. At a stage, I just found that during that 8-year crisis, I still couldn't pay my child-ren's school fees because I was investing everything in the ministry. Everything turned upside down. My plan was to kill myself but at the end I got over that phase. But it didn't just end that very day. The next phase was school fees and so on so I took the children to the village to stay with my mother.
I didn't want to borrow money, I would rather suffer. Toma and his elder brother, now doing Masters in the U.S. had to go to the village. They tried to kidnap him so he left for Ghana. It was so hard, I wanted to go back to pharmacy instead of suffer-ing as a full time pastor! But God wouldn't allow me do pharmacy. He said if I do it, I will not last. So the battle was harsh and these children suffered. My wife was so tolerant.
The rich also cry
Continuing his version of the-rich-also-cry narration, the bishop admitted that his wife, for several years could not afford ordinary sanitary pads. "Everything then was just about the ministry, it was either in or out; you either sink or swim. Any time I decided to go to renew my certificate so I can work, God would say 'don't go to pharmacy coun-cil, if you do, you are gone.' He said: 'If you wait on Me, the world will hear your story'. When our cooking gas finish-ed we started using firewood. At a stage, instead of buying fish, I'ld go to the market and ask them to give me those bones that dogs can take.
"My wife would cut the bones into bits. It got to a point, I couldn't even afford the bones anymore. There was a boy called Eric, my children's best friend then who crossed the nearby river and catch fish in the morning and that is what I will use for food for that day. My house was close to the river. Eric was so helpful. His father was an Ijaw who lived on top of the river. He would go to the bush and cut trees down that would take about four days to dry before we could use them for firewood. When the guy left for school, we started using saw dust. At a point, I couldn't afford the saw dust. So life was very harsh. St. Gloria, my child-ren's school, increased school fees and I couldn't cope so I took them to my village. My mother tried and the children adjusted.
"When people tell me Toma is humble, I just laugh. Why won't he be humble? You know where we were coming from? This was in the 90s. People were pitying me but they couldn't help me though they were very supportive. People like Adegbe, the Ojos gave me money to start Our Daily Manna. The first ODM I published was with money from one of the Ojos. They've been here for 16 years."
According to the bishop, Toma spent seven years, while his elder brother spent six years in Ughelli in Delta State, before gaining admiss-ion to the University of Port Harcourt to read pharmacy.
The kidnap story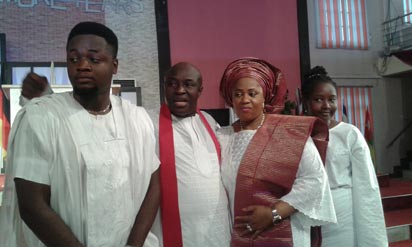 One evening in his school hall, four Egbesu boys kid-napped him but by divine intervention, he managed to escape through the toilet window. What made him to leave Nigeria; his bed, generator and everything because he couldn't go back to his private hostel.
I called him and asked him where he was, he said he was in a bush. I told him to go to the nearest G. Agofure Motor park and proceed to Lagos even if he didn't have money. I spoke with the driver telling him I would pay on arrival in Lagos. He missed school for about a year because he couldn't go back to Port Harcourt.
The then Rivers State Police commissioner called me and said they would give him security and I refused; the Nigeria Police cannot secure him. I believe that God did it. Maybe if the kidnappers didn't attack him, I may not  have sent him out for first degree. That battle promoted him. My life stories are very complicated and always very hard but they always lead to great testimonies.
The bishop believes that what precipitated the son's kidnap had to do with his early act of benevolence to the university. "I just bought some pharma-cy books for the faculty of pharmacy, and during the convocation, the dean of the faulty told the VC that one parent donated pharmacy books. I studied pharmacy at OAU, Ile Ife. I got the books and donated same for the department of pharmacy and this guy now announced my name.
That was what led to the kidnap. The truth is there are no millions anywhere. The kind of life I live, I'm an aggressive person. If you give me money now, I'm investing it in the Lekki Prayer Tower just about to start.
In Ghana, Toma didn't do pharmacy. Instead he did management and computer studies. To continue with pharmacy, he needed to do a pre-degree programme meaning he had to do another  two more years. I said no. I told him let God's will be done. Toma is today a business advertisement guru.
The funny thing, the cleric continued, is that nobody can put his finger on the day of his breakthrough. "So, I can't say this is how it started. People say there is so much power behind ODM because some-times I write in anger and in hunger. We've changed the quality from time to time but not the writing. It must con-tinue," he explained.
Was that the only thing you were doing then, Kwakpovwe who began his Christian voyage at the Catholic Church before a born again experience on February 3, 1976 at a Scripture Union meeting before a soujorn at Tunde Joda's Christ Chapel, then Chapel of Praise, W.F. Kumuyi's Deeper Life and the Assemblies of God Church, was asked. "We had one fellowship kind of then, it was not a church. We had Chapel of Liberty many years ago at Ojota which metamorphosed to Liberty Army. All these were in residential houses.
His mentors
Among his mentors are the late Archbishop Benson Idahosa who baptized him, the outgoing CAN president, Pastor Ayo Oritsejafor and Pastor W.F. Kumuyi.
Which was why we asked him about the controversy over the Deeper Life's Daily Manna and his own Our Daily Manna and this is how he responded: "It became a legal issue but as an elder and father, I had to honour Pastor Kumuyi. We began Our Daily Manna in January 2001. The law states that you must deposit three copies with the National Library which we did but one of the guys there, Mr. Ola Ojo, worshipped with Deeper Life. The moment he saw Our Daily Manna he just adopted the name, Daily Manna. The guy wrote for Kumuyi before and at a time worked for Pastor Adeboye and now with Pastor Oluko-ya.
They do what is known as con-tract writing. This guy is gift-ed. He has about 20 workers equipped with computers who work on pastors' messages. He came to me to produce for me. I'm not allowed. I'm still asking God why because I need help. I need God to raise people who have caught the ODM vision. I can't keep writ-ing like this for life. Sometimes I write kneel-ing down. Sometimes I will be on the bed; sometimes I will stand on one very big table. There is no style I have not used to write. I'm now using dictation," he maintained.
Told to enumerate  testimonies that have attended the effort, Kwakpovwe said there was no way he could, stating: "Is it about the dead that were raised? People placed this book on people who doctors had pronounced dead and they come back to life and many more in Ghana, Zimbabwe, South Africa, Mozambique, U.S, China, Canada, Russia, France, all over the world. Not just Our Daily Manna, there is also War against Hamman."
He also had an opportunity to talk of the anointing service scheduled for July 23, saying: "We have two anointing services every year: in January which is very explosive and the July one which is also massive. A knock down is not a knock-out! You must hold on, delay is not denial. We have set aside 14 days from Sunday, July 10 to fast towards the July anointing service. We are expecting delegates from about 200 countries where ODM is being read."
Silence of matrimonial challenge
The man of God would rather not talk about recent contro-versy over his matrimony, saying: "I could talk about my past experiences but marital misconception was a very bitter one. I don't want to go into that because it will take me to so many issues. But the summary is that I'm above that now. I married properly; properly means I paid bride price and there are legal papers. If you had an experien-ce years ago and you just felt that this person ought to be and it didn't happen what will you do?
"That's a very odd experience. I can't even talk about it here because there are so many twists. I was just too emotion-al, very young, very small but later in life before I went through this major crisis, I had to take the bull by the horn and I think God gave me my wife. I married her legally. If you like somebody but you didn't pay her bride price for any reason, maybe the person was married, it's painful, but what do you do? Every disappointment is a blessing. So that's my story," he summariz-ed.
Also speaking, Toma who attended Kogbodi Interna-tional School, Ughelli, Delta state, said the transition was not altogether a bad experien-ce because it offered them the opportunity to get close to grand ma and other people at the homefront.
"The transition from Lagos to Delta State was not very easy to cope with initially but as time went on, I got used to it. We went through secondary school education and came out of it. Looking back at the whole thing, I'm able to pick strength from different points of the journey. It taught me so many things I probably wouldn't have known being in Lagos. I am exposed to many other things that I am grateful for right now. The Lagos education system and environment compared to Delta State was a whole lot of difference," he stated.
The young lad attended Re-gent University of Science and Technology in Ghana, affirming that the experience in that West African nation was satisfactory and fulfill-ing. "Before I got to Regent, it was a bit of a struggle, trying to pick the right school. I got admission to go to U.K. but my dad did not permit me to go. I got admission in a couple of other schools in Ghana; it was a bit of a struggle, trying to pick the actual university to go to. But as time went on, I settled for Regent University and I began to study there. Leaving Port Harcourt and starting over again, I had a drive to do more than the average student would. Everything I wanted to do, I wanted to do it very well," he added.
Subscribe for latest Videos