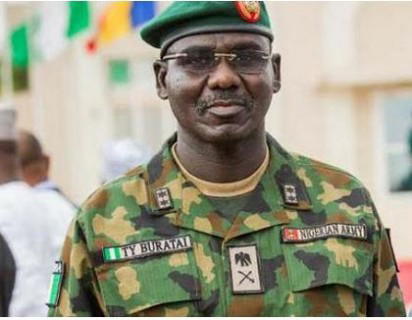 Former Chief of Army Staff, Lt-Gen. Tukur Buratai(retd).
By Chidi Nkwopara, OWERRI.
Uneasy calm has enveloped the sleepy rural Etekwuru community in Ohaji/Egbema local council area of Imo State, following the alleged murder of 26-year old Declan Obi, by suspected soldiers.
The story making the rounds in the community had it that one Evans Njemanze, allegedly invited some soldiers stationed in the area to investigate Obi over an alleged missing N350,000 from the coffers of his company.
An aggrieved villager, who spoke on strict grounds of anonymity, recalled that the deceased, who until his death, was a seller of popular brands of soft drinks, was asked by his employer, Njemanze, to give account of the proceeds realized from the day's sales.
The villager equally recalled that the victim's boss, who was still sensing that the alleged sum was missing, angrily contacted some soldiers around, to not only help him investigate alleged financial impropriety, but to also recover the money from Obi.
"The soldiers, in their usual manner, mercilessly beat up Obi until he lost consciousness and eventually died", the villager said.
Addressing newsmen yesterday, the deceased's brother, Mr. Athanasius Ochima – Obi, said their brother's death was as shocking as it was brutal.
While confirming that "Declan dressed up in the morning for work, but what we heard later was that he was held hostage over a missing N350,000 and killed by some soldiers".
When contacted for his comment over the incident, the Brigade Commander of 34 Artillery Brigade, Obinze , Owerri, Brigadier-General Kay Ishaku, feigned ignorance, insisting his men were not part of the plot.
"Experience has shown that some dubious members of the public, have formed the notorious habit of putting military uniforms in order to deceive members of the public to achieve their inordinate ambitions", Ishaku said.
Continuing, the Brigade Commander added that the army had traditionally distanced itself from any civil litigation and remains committed to discharging its statutory responsibilities of protecting the territorial integrity of the country.
"Soldiers do not have anything to do with civil cases. I have also told my officers to stay away from civil problems. I can come into any civil matter only when the police has admitted that they have failed. My cardinal responsibility is to restore peace and when I restore the other security agencies maintain", Ishaku said
The Commander however, promised to carry out a thorough investigation into the matter with a promise to bring to book any genuine soldier or soldiers found to have committed the crime.