By Tom Moses
UYO-Akwa Ibom Police Command has arrested a kidnap kingpin and leader of a notorious cult group, Deybam Men Confraternity, Godwin Edet Okon who allegedly tortured and killed an Addax Petroleum Oil Field Staff in their custody in 2006.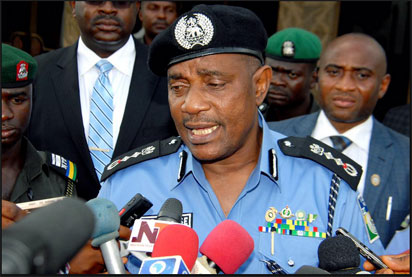 Saturday Vanguard gathered that the police in the state had been on the trail of the suspects since 2006 until yesterday when members of the State Armed-Robbery Squad (SARS) stumbled on some vital information that led to his arrest.
The Akwa-Ibom State Police Public Relations Officer (PPRO), Delia Nwawe who paraded the suspect on behalf of the Commissioner of Police, Mr. Murtala Mani said."Since 2006, the police has been investigating a case of a staff of Addax Petroleum Field in Mbo Local Government Area who died. We have been looking for the young man who actually kidnapped the staff and fortunately for us, we have been able to find the man whose name is Godwin Edet Okon from Effiat in Mbo Local Government Area.
"He has confessed to the 2006 crime of kidnap and murder of the man, who died in their custody He also told the police command that he is the big boy and head of a confraternity known as Daybam.
"A search by SARS was conducted on his premises, where they discovered two human skulls, one of a man and the other of a woman as well as locally-made firearms. He has confessed to us stating clearly that one of the skulls belonged to a woman who also died in their custody.
"This young man as far as we are concerned, has committed a lot of crimes as far back as 2006.
Apart from that he has fraudulently taken sums of money ranging from N2m from people.
"It is quite unfortunate that people take the laws into their hands, they go about kidnapping parents and children. This is unacceptable, we will not allow people to come to Akwa Ibom and perpetrate any form of crime",
She also informed that the men of the SARS yesterday rescued a-60 year old woman, Adiaha Thomas a native of Ikot Akpaden, Mkpat Enin Local Government Area who was kidnapped by another gang of kidnappers in a Toyota Camry car.
"The Toyota Camry car that was used in abducting the woman from her home is with us. When we received the information, we swung into action, they kept running making it difficult for our men to actually know where they were running to. Eventually, they abandoned the woman in the car and ran away but we will continue to look for them until, we find them. The good news for now is that we have rescued the woman. She is presently undergoing check up at a hospital.
Speaking with the VANGUARD, the kidnap kingpin confessed that one of the human skulls in his possession was his symbol of authority as the "Number One of the DEYBAM Men Confraternity while the other skull was that of the late staff of ADDAX Oil Field who they seized in 2006 to facilitate negotiation between his Effiat Community and the oil company but said the man died due to dehydration.
"The skull was one of the items given to me by the elders of the confraternity as their 'number-one' around 2015.
Subscribe for latest Videos