By Chidi Nkwopara
OWERRI—Pastor Mike Agbahime, whose wife, Mrs. Bridget Agbahime, was recently murdered by Muslim fundamentalists in Kano, has finally relocated to his ancestral home, Orodo in Mbaitoli local council area of Imo State.
Giving a graphic account of how his wife was killed, Pastor Agbahime told Governor Rochas Okorocha, yesterday, in Government House, Owerri, that he helplessly watched while the fundamentalists gruesomely murdered his wife.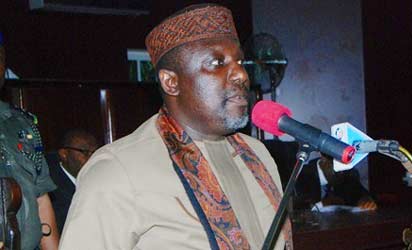 The widower recalled that he survived the attack by the grace of God, pointing out that he would have also been killed because the aim of their attackers was to kill him and his wife.
His words:  "On the faithful day, one Muslim man called Dauda, came to my wife's shop and was washing his legs infront of the shop. My wife told him to shift a little, to enable her arrange her wares, but the man refused. Instead, the man started to molest her, and gripped her neck. In trying to free herself from the grip, Dauda started shouting Alakuba, and not long after, an angry mob quickly gathered.
"When we saw that danger was knocking, we ran and took refuge in the house of a prominent Alhaji, who is a leader in the area. The Alhaji did all he could to calm the mob down. They refused, called him an infidel, broke into his house and killed my wife in front of me. If not for the quick intervention of the Police who immediately used teargas to disperse them, they would have also killed me. But they destroyed everything I had, both the shop, the car and so on.
"My wife was never beheaded. They repeatedly hit her head with hard objects. Currently, the body of my wife is in the mortuary. She was not beheaded as it was widely reported."
Responding to Pastor Agbahime's pathetic story, Governor Okorocha, who described Mrs. Agbahime as a heroine, also said that it took more than 100 men and women to bring her down.
"The gruesome murder of the woman was highly provocative, barbaric and the highest expression of wickedness to a fellow citizen. Imo State Government shares in the grief of the Agbahime family", Okorocha said.
Continuing, the  Governor said the problem is not the death of Mrs. Agbahime but the manner through which she was killed.