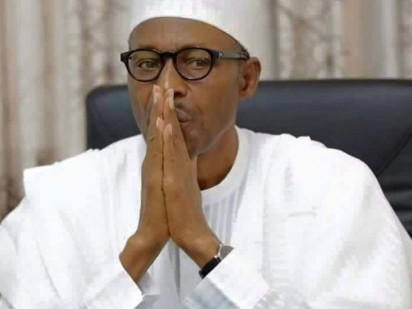 Buhari
By Omeiza Ajayi
ABUJA—The policy direction of President Muhammadu Buhari's administration has now divided  the northern and southern parts of Nigeria, according to the International Republican Institute, IRI. Presenting the report to the media in Abuja, IRI Acting Regional Director, Africa, John Tomaszewski, said though Nigerians remained polarized between North and South, they support the democratic process and believe that democracy had improved since the 2015 national elections.
He said while 54 percent of Nigerians felt that the country was headed in the right direction, divisions in perceptions of the country's trajectory were stark. He said: ''Almost half of respondents in the North-East (40 per cent) said the country is headed strongly in the right direction, compared to just 10 percent in the South-East, where 49 per cent believe that the country is moving strongly in the wrong direction.
''A similar split can be seen in regional perceptions of the economy. 75 per cent of respondents in the South-East think the economy has got worse, compared with 44 per cent in the North-East. "The survey also reveals a widespread perception that corruption is declining, with 53 per cent of respondents reporting that corruption has decreased in the past year.
Split perception
''However, it is important to note that this perception is largely split between the North-South lines, with more negative views noted in the South than in the North." It added that 59 per cent of respondents considered democracy more important than prosperity, compared to 37 per cent who find prosperity more important to them.
This preference for democracy, according to the report, comes, despite the crippling economic challenges facing the country, with 57 percent of respondents reporting that their personal economic situation has got worse over the past year. According to the report, despite sharp regional divisions on national issues, questions regarding elections indicate commitment to the concept of the democratic process nationwide.
"This poll attests to the significant work that Nigeria's government must do to address regional divisions and other issues of governmental responsiveness and accountability affecting the Nigerian people.
Highlighting tremendous achievement
''But it also highlights the tremendous achievement of the Nigerian people in committing to the democratic process, despite the difficulty of past elections, and is a promising indicator for the country's democratic development since the return of democracy in 1999," Tomaszewski noted.
Reacting to the report, Director of New Media of the Peoples Democratic Party PDP, Deji Adeyanju, faulted IRI's findings on the grounds that it did not take into account the fundamental issues of "disregard to the rule of law, especially with the state-sanctioned killings of Shi'ite protesters in Zaria and members of the indigenous People of Biafra IPOB." IRI, however, noted that as with every research project, its scope was limited, especially because the interviews were conducted through telephones.