By Evelyn Usman
BADAGRY metropolis of Lagos, a border town between Seme and Benin Republic, has always been in the news following usage of the route by smugglers of various kinds of contraband goods, including vehicles.
In addition to the nefarious activities of these recalcitrant smugglers, is the diversion of Premium Motor Spirit, PMS popularly known as  petrol , through the Seme-Border to other neighbouring West Africa countries, where they are sold almost twice the purchase rate..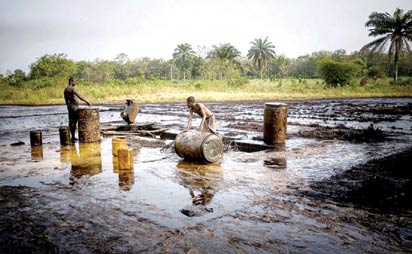 These products which are usually loaded in trucks, jerrycans of various sizes with inscriptions on them to indicate their owners and polythene bags, are transported through various modes, such as motorcycles, cars with special in-built compartment, where they are concealed, apparently to beat security checks at the border. At other times, they are taken through illegal routes to their respective destinations outside the country.
In 2012, the International Monetary Fund, IMF disclosed that 80 percent of petroleum products consumed in Benin Republic in particular, was smuggled from Nigeria.
Vanguard's  checks showed that over 30 tankers loaded with petroleum product were being smuggled through road to Benin Republic on weekly basis, even when the country was groining under its scarcity recently.
Investigation further showed that some marketers are also engaged in the diversion of these petroleum products to neighbouring countries, while Nigerians sometimes spend hours on queue to get them at petrol stations.
Consequently, the Forward Operation Base, FOB, Badagry has smashed a syndicate that specialised in smuggling these products outside the country, recovering 2, 250 litres of petroleum products.
Speaking on the issue, the Base Commander, Captain Simon Dogo, explained that the suspects were at the verge of loading over 2000 jerricans with petroleum product for onward exportation to Benin Republic at the early hours of Saturday, when they swooped on them. However on sighting the personnel, he said the suspects jumped into the river and escaped, abandoning their boat.
He informed that the base had made similar seizure and arrest of suspects who were thereafter handover to the NNS Beecroft, the operation base of the Western Naval Command.
He said "We are keying into the mandate of the Chief of Naval Staff who has zero tolerance to economic sabotage.
We have been having sea patrol in the past three months since I arrived here with lots of arrests made. We needed to carry out this very one in order to sound a note of warning to economic saboteurs around Badagry. About 90 jerrycan loaded with petroleum product were recovered inside the boat, as well as about to 2000 empty ones.
"My land patrol has had course to also arrest them severally. Sometimes when we accost them on land, we check their documents to ascertain whether the products are genuine. The products are usually taken to the approved petrol station but it won't 'be dispersed to the public. Rather, they would load them into jerrycans and transport them to Benin Republic.