By Chidi Nkwopara
OWERRI—A new militant group that operates on the platform of  Niger Delta Red Squad, NDRS, has threatened to attack some government and oil  facilities in Imo State.
The fresh threat is coming barely few  days after it hit a facility operated by Shell Petroleum Development Company in Awarra, Ohaji/Egbema local council area of Imo State.
Confirming the initial attack on the Shell facility, the Police Public Relations Officer, PPRO, of the State Police Command, Mr. Andrew Enwerem, a deputy superintendent of police, DSP, said that they received the report of the incident, but could not immediately say the extent of damage done by the attack.
"We got the report of the destruction of oil installation of oil facility in Awarra, but we are yet to know the extent of the damage," the PPRO said.
In the current threat, which was posted on line and signed by one General Don Wannie, the group fumed that oil producing communities have nothing to show for the many years of oil exploration and exploitation.
The group's anger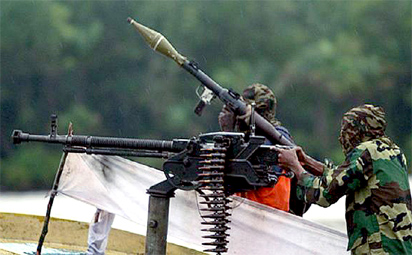 "Oil companies started operation in our community since 1957, but up till date, we have nothing to show as benefit. For Imo State government, we will make sure you make no further gains from Ohaji/Egbema.
"Since God's creation, neither Imo State government nor oil companies have remembered us. We have been neglected and abandoned. No electricity. No tarred roads. No drinking water. No hospital. No youth employment or empowerment.  We shall destroy everything in Imo State that was built with our oil money."
While claiming responsibility for blowing up two Shell pipelines, the group also promised to inflict maximum damage to oil facilities, if Ohaji/Egbema communities are not given due benefits from their oil resource.
The group equally warned Waltersmith Petroleum Oil Limited of an imminent attack on the company's facilities.
"We will let them know that the security which they claim to have is insufficient. So, they should go and hire more because we are coming to attack them any moment from now," the group said.
While asking the Federal Government to immediately redress the ugly situation and not making the mistake of taking them for granted, the group, however, warned that if the federal and state governments think they are joking, "we will shock them."