By Bose Adelaja
Two communities in Lagos and Ogun states have been deserted following attacks by some suspected militants. The adjourning communities Elepete and Muti both in Igbo-Olomu, Ikorodu and Ita-Oluwo, Ifo local government of Ogun State have been deserted for days after about 18 of the residents were killed by the suspected militants. Scores of the residents have fled for safety for fear of attacks.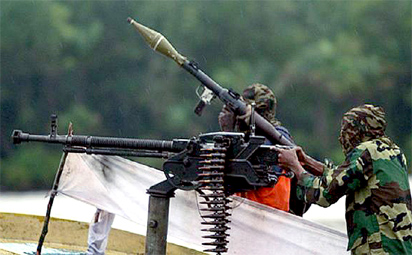 Saturday Vanguard gathered that the attacks started last weekend at Muti where 15 people were feared dead but later degenerated and spread to Elepete and its environs claiming the lives of  three people in the process.
The suspected militants who are mostly Ijaws were said to have invaded the communities at about 4am through the creeks using sophisticated weapons.
Worse hit areas were Elepete Phases 1 and 2, Kajola Phases A to F and Muti. It was gathered that shops, schools, churches and mosques were closed down during the attacks. The communities comprised of migrants from Majidun-Ikorodu and Arepo, Ikorodu and Ogun State who settled in the communities after they were dislodged by the Task force on Petroleum/vandalisation of pipelines.
The Federal Government war against pipeline vandalisation was said to have checkmated some of the militants who then took to robbery, and other crimes to make ends meet. They robbed one of the hotels located in Muti. The problem started when some militants robbed a hotel last Friday in a hotel in Elepete. Unfortunately for them, their faces were captured by CCTV cameras at the hotel while  the hotelier intimated Special Anti-robbery Squad SARS operatives who commenced investigations.
After a tip off, two of the suspects were traced to another hotel located in Kajola area of Elepete but they were said to have resisted arrest and made phone calls to their colleagues who mobilised and rushed to the scene. However, two of the suspects were killed while  the hotelier was arrested. The militants then invaded Muti with sophisticated weapons in a reprisal attack killing 15 innocent residents. According to eye-witnesses, people were seen scampering for safety just as they took refuge in Elepete and neighbouring communities.
A few days ago, the militants reinforced and launched another attack on Elepete. Saturday Vanguard gathered that they first barricaded all entrances to the town to prevent movement and later unleashed terror on residents. Vehicles and properties were vandalised as they succeeded in looting shops, houses, mosques and churches carting away valuable items and cash.
Saturday Vanguard also gathered that three of those who resisted the militants were killed while others were injured as scores of the residents fled the town for fear of the unknown. When Saturday Vanguard visited the  communities, they were deserted. Vehicular and commercial activities were grounded and there was tension all over the areas.
At the entrance of Oke-Ayo in Elepete, some youths were seen appealing  to people to return to their homes. One of them Abdul Gafaru said the attacks have paralysed the communities. He said, "no community can exist without people, we are the indigenes of this town and all we want is peace. We cannot operate successfully unless people return to the homes." The Olumushin of Imushin, Oba Taiwo Bamgbose, has since appealed for calm while both Lagos and Ogun Police Public Relations Officers Dolapo Badmus and Muyiwa Adejobi, respectively said they were on top of the situation.
A survivor of the attacks who is a Policeman, haven spoken to Saturday Vanguard on condition of anonymity, said that he escaped death by whiskers. He said, "I narrowly escaped death in the hands of the militants who seized somebody elsewhere and slaughtered him behind my house. In the process, the blood splashed and stained the wall of my house. On sighting the blood, people thought I have been murdered and started calling me."
Also, one of the residents, Madam Rabiu Amina who spoke with Saturday Vanguard said she narrowly escaped the attacks, "I had leg pains and was indoor for days with my grand daughter. I never knew my community had been deserted until Tuesday when I got a call from my younger sister who lives in PortHacourt. She said she read it in newspapers and decided to know my whereabout and that was when I opened the door only to discover there's nobody in the community. I managed to trek a long distance before a motorcyclist helped me."
At Ola Imam bus-stop, only two commercial motorcyclists were available but they complained of low patronage since people have fled the communities.
Saturday Vanguard succeeded in getting  the telephone numbers of some of those who fled. Some Kajola residents blamed Ogun State government for not answering their distress calls. According to them, Ogun State government has been insensitive to their plight since the invasion of the militants. A resident who pleaded anonymity said only Lagos government has shown concern.