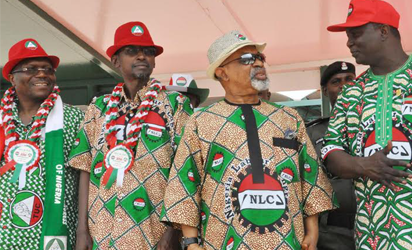 FILE: MAY DAY —From left: President, Trade Union Congress, Comrade Bobboi Kaigama; Minister of Federal Capital Territory, Alhaji Mohammed Bello; Minister of Labour and Employment, Sen. Chris Ngige and factional President, Nigeria Labour Congress, Comrade Ayuba Wabba, during the May Day Celebration in Abuja,yesterday. Photo: NAN.
By Victor Ahiuma-Young, reporting from Geneva, Switzerland.
GENEVA – The Federal Government, Tuesday expressed shock that employers in the financial sector, especially banks were breaching its directives to stop further retrenchment, threatening to withdraw the operating license of any bank or telecommunication company that breached its directive to stop mass sack of workers.
Speaking to Nigerian journalists at the ongoing 105th session of the International Labour Congress, ILC, in Geneva, Switzerland, Minister of Labour and Employment, Senator Chris Ngige, warned that government would sanction erring companies because government had a duty to protect jobs in this harsh economy.
Ngige was responding to questions on alleged breach of his earlier directive to banks and other financial institutions to stop further retrenchment of workers pending the stakeholders meeting scheduled for next month.
The minister, who spoke after his speech to the ILO National Assembly, said: "We will go a step further if they continue. We know what to do. After all, the banks have the licenses giving by the government.
We know what to do. They need to comply. They need to come to the negotiation table. We did (halted the
spate of sack to hold a stakeholders meeting) that in the oil industry and we succeeded. Even if you are going to lay off, there is a way to declare redundancy, there is a process.
Section 20 of the Labour Act says it. You must call the unions and discuss with them. You don't just treat them as slaves in their own country and you want us to keep quiet.
"We want them to maintain the statusquo. As far as I am the minister of labour, I will protect the interest of workers; same to the telecommunication companies, they are also talking about compiling lists without discussing with anybody."