Emma Amaize, Regional Editor, South-South
DELTA State Governor, Senator Dr Ifeanyi Okowa, spoke plainly in an interview with this reporter, some months ago, that former Minister of Information, Prof Sam Oyovbaire, is his political godfather. Getting the academic and political strategist, who the governor respects his mental power to share his perspective on Okowa took some time because of his schedule, but when Saturday Vanguard met Oyovabaire, the reasons were palpable.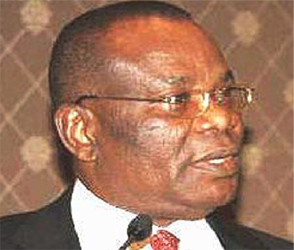 The professor once tried to rule the state and battled for the ticket of the Peoples Democratic Party, PDP, in 1999 or thereabout with former governor, Chief James Ibori, who incidentally tutored Okowa politically. However, what he lost in Ibori, he gained in Okowa. Excerpts:
Delta overcoming biggest challenge  
Delta state originally ought to have taken the form of the old Delta province, which would have excluded the Ika, Aniocha, Oshimili because these areas used to be part of old Benin province, not Delta province, but the politics of the time and the compromise gave us the Delta state that we have today.
Air Commodore Luke Ochulor kick started the interim administration of the state from 1991 to 1992 and the late Olorogun Felix Ibru was the first semi-elected civilian ruler, because at that time, the military was still at the centre. That carried us for 18 months or so, and then, the whole process of June 12 after which the military came on board and dismantled the Felix Ibru administration.
In addition, from then until 1999, we were again under military rule and of course, in 1999, James Ibori took over as the governor of the place. I think the greatest challenge we have always had, which started with Ibori is how to blend Delta state with part of it that was in the Benin province. It was an undercurrent, really, one of the early challenges. Ibori did what he could and thank God, that kind of challenge is not too prominent today because sometimes if you blow up the issue of Anioma too much, the tendency is to remind people about such challenges.
But in recent time when the irredentist Biafra are shouting all over the place, they somehow still think that the Anioma part of the state is automatically part of the Biafra agitation, which if we are not careful could disturb the arrangement we are having now. Therefore, Ibori tried what he could do.
You know that even the day Ibori took over; there was bombing and destruction in Warri area, which is among Ijaw, Urhobo and Itsekiri ethnic groups. Therefore, we have come a long way and Uduaghan came on board and tried to manage the situation as best as he could and today, we have my good young friend, Senator Dr. Ifeanyi Okowa, in charge.
Nevertheless, so far so good, we have come a long way. And that is what I want people to know that   for somebody like me, I am not bothered about the ethnic group you come from in the state, what I am bothered about is the quality of the person, no matter the part of the state. That is one way of blending the state.
Avengers reacting to Jonathan's misrule
It is unfortunate in many ways that after six years of the administration of former President, Dr. Goodluck Jonathan, forces reacting to the post-Jonathan experience are giving us the challenge that we have today, governance is not easy and I am not trying to undermine the forces, but I believe very strongly that Dr.   Jonathan had no grasp of the history that we went through, if he had, then he did not care as to how to use the knowledge to develop the region.
I cannot see anything in Niger Delta that I can associate concretely with Jonathan for those years. However, any other person, whether it is Olusegun Obasanjo, Yar'Adua or Muhammadu Buhari would have been here in these years of Jonathan. I would have loved a situation where he did a few things, now Buhari is even claiming that he wants to clean up Ogoni land. Of course, that of Ogoni had been there of a long time, but here in Delta state and Oloibiri in Bayelsa state, where oil exploration actually started, we have a lot of spillage and wastage of our environment.
One would have expected that Jonathan should have started the cleaning up in Oloibiri and these other places, but I did not see the articulation. Jonathan did not do much and we are face to face with the Avengers, which may be avenging something. What is it that they are avenging; they are avenging the inability of Jonathan to do what he ought to have done and there is very strong fear, genuine fear that with President Muahammadu Buhari on the saddle, the area would continue to have the short stick.
Creating more problem for tomorrow
This is the anger, yes, but we need to be careful, you could go on and say okay,   let the country go to pieces, if you have missiles, let us blow up Abuja, Nigeria National Petroleum Corporation, NNPC, Aso Villa and all that, those are very shortsighted ideas because you believe that nothing has happened in your area. You also need to know that you are creating more damage to our environment.
If it is only now that Ogoni through the UNEP is about to be cleaned, what about the damage done all these years. Those who are bombing and destroying today, their grandchildren would have no place to stay, so while you can have good reason for the anger for avenging, you should also ask yourself the problem you are creating. And for the immediate time, you would have less money, Delta state is highly impoverished with what the avengers are doing today because our share from the Federation Account has collapsed from N19 billion to N3billion and yet we are one of the highest paying bureaucracies in this country. What the Avengers are doing today, no matter how you want to sympathize with them, we would face difficult time very soon.
Short-range leaders
Well, you might call it a risk, but I did and will continue to do what I am convinced about, I did not do what I did to please Dr. Okowa or this part (Northern senatorial district)   of the state. I believe very strongly in him, as you know I had my own intention when I struggled in the distant past when I wanted to rule the state. Some of my plans are being realized today through Okowa and Okowa does not even know that.  We sat down and I was very much involved in the document, which became his manifesto and a lot of my ideas were there. So unfortunately, my people, let us use that word, my Urhobo compatriots with due respect to all of them, from the youngest to the oldest to the wealthy and the wealthiest, with due respect to all of them, they were shortsighted, really, shortsighted. I mean that because if you cannot rule, you should be able to have control of who rules. If you argue that if it is not me, there is no state, then you are wrong.   In every community today, here in Asaba where we are, in Agbor, Ughelli, Orerokpe, everywhere, you have the good ones and the bad ones. How would say that there are no good people in the North senatorial district.
I am trying not to use the name Anioma. If they were, why would you shut the door against a segment of the state because there is an assumed utilization of population? We have had Ibru rule us for 18 months, Ibori ruled us for eight years, then we had a deputy governor for eight years, there are challenges and I cannot regret the challenges.
I will not say nothing happened in the Central Senatorial district, many things happened. Perhaps not enough, but if you are to fight to continue to have a Central Senatorial district person as governor, are you saying that your administration will   focus on only Central Senatorial district to the detriment of the North and South Senatorial districts. Therefore, I was convinced in what I was doing and I think that Okowa later realized that I did not just believe in him but was sincere about it because he is very organized.
My first love for Okowa
In fact, if he were an intellectual, a university lecturer, he would have been quite exceptional. I enjoy organized people with ideas.   I tell you a little story.   The year he moved from being Secretary to the State Government, SSG,   to begin the struggle to go the Senate, I sent him a text saying something like that with the little I have heard about his performance as SSG, I wished him well and hoped he would continue to have a grasp of whatever he did. I also said in the text that I could see the strength in his character and all that and frankly, I had forgotten that I sent such a text to him.
I really did not know him much as I said, but some of them, who are younger than me, would know me. I think two and half years later when he made up his mind, he called me one day from Abuja and was seeking information as to where he could meet me. I did not know why he wanted to come, I said okay, since he wanted to come to Benin, I will be in my little bungalow in Benin, so he came straight from the Airport to my house, my library in particular, knelt down and said sir, I want to try to be governor.
He told me the story of how he tried to succeed Ibori, how Uduaghan took over and so on. I said very well, I think you have every reason to be, the little I know about you, you are highly organized. Do you know what he did, he brought out his phone and showed me the text I sent him the year he left as SSG, I do not know whether he had it in mind that many years later he was going to show me that text, and believe you me, I was highly impressed,
For me I delete a lot, but even if he had planned it, keeping it for almost three years was something thorough to me I enjoy people like that. That was the first love I had from him.
Urhobo people didn't know where I was going
And of course we started, and as I said earlier with due respect to my fellow Urhobo compatriots, they failed to know where I was going. But like I said, it was not a favour to Okowa, it was not a favour to Anioma because I believe that he fits into it and you would see that during his campaign, he was careful not to over blow Anioma. I know those who were with him, the Asagba of Asaba was very close to him, but he did not carry Anioma on his forehead, which was very good. Moreover, he tells them wherever he goes that he is the son of every senatorial district in the state.
My kind of politics
Well, I am a teacher of politics and beyond that, anything I do in life, I try to practice it. Sometime, my wife will say that I have turned the family into a classroom.  It  is part of my problem with Christian leaders, and pastors you say one thing in the morning, you tell your parishioners something, but what you do in the afternoon is different.. I try as much as possible to see that what I believe in, I take it seriously. So far, I want to thank God that I have not handled a situation that we failed. I handled Babaginda, the moment I saw that things were going somehow, I made my point clear, I am not sure that you know how my now late friend, Senator Chukuwmerije took over from me as Minister of Information. You see, at a point in the Babaginda regime, we lost steam; we took off and were in the air, governed very well and in trying to land, we lost steam. Therefore, we had difficulty of landing, that is not finishing well and I was not going to be part of not admitting that we had a difficulty in landing, which was how Chukwumerije took over from me.
Our little secret
What I am saying is that people did not know how seriously we took the Okowa project; they did not know that we meet three times in a week and were working. Some of the aspirants, who did not care about delegates, thought that Jonathan will influence certain things and PDP at the centre will do this and that. So even when noise was being made against Okowa from the top, we were in control of the delegates. People did not know because every night we meet to know who is still with us and who is not with us. Now, those with us, we consolidate them, those we know were veering away, we try to get them back. So the game was one and like every ruler and of course my good friend, somersaulted here and there,
We did a fundraising activity and believe you me, I, Sam Oyovbaire, do not know how much we got. I learnt from my service in the military administration that I have a boundary and I keep to it. I believe very strongly that how Dr. Okowa funded the campaign is not my business, I did not get involved because I had money to contribute, but once or twice that he had some difficulties, he did not tell me, but he kept on struggling because he is a very highly strong-willed person and very strong faith based individual.
He has very strong faith in himself and in the powers of God and so. Once, in our little meeting, I wanted to have an account because I was the chairman of this and chairman of that, but on a second thought, I felt it was wrong, particularly because of the group we were in. so I dropped the idea of having an account. So really, I do not know the key players in terms of those bringing money into it.
I also know that in the case of my younger good fellow, Barrister Kingsley Otuaro emerging as deputy governor that Kingsley Otuaro was a friend of Tompolo and so on.   However, I will tell you that I also shared this with Okowa that we needed somebody from the Ijaw stock as his deputy. You may ask, why is it that it is Otuaro knowing that Otuaro is close to Tompolo, and that if Otuaro becomes our deputy, people would say Tompolo is his patron.
I tell you honestly such a thing did not bother me, but put it on record that I do not know whether Tompolo donated one naira or one dollar to Okowa's campaign. He probably did, I do not know.