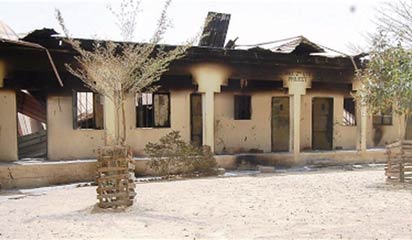 One of the burnt school buildings in Maiduguri
By Ndahi Marama
MAIDUGURI—The Emir of Gwoza Local Government Area of Borno State, Alhaji Muhammadu Idrissa Timta has said none of his Internally Displaced Persons, IDPs, including himself and his immediate family will return to Gwoza until Boko Haram terrorist are completely wiped out.
According to him, most communities especially surrounding mountainous villages of Ngoshe, Ashigashiya, Barawa and other border communities with Cameroon Republic are strictly under the control of the sect members, lamenting that over "10,000 persons are still trapped in Mandara Mountains (Bayan Dutse),
He spoke while reacting to a statement credited to the Senate Leader Mohammed Ndume, who also hails from Gwoza, calling on IDPs to return without waiting for government directive.
The Emir insisted that the so-called liberation of Gwoza communities hitherto under Boko Haram control by troops was only visible on the pages of newspapers.
He noted that those who took courage and returned to resettle in Gwoza town could not move out of the community, as they were likely to fall into the hands of insurgents that still surrounded the town without confrontation.
The Royal Father spoke to Vanguard yesterday at one of the resettlement camps in Maiduguri, few days after visiting Gwoza town.
Muhammadu succeeded his Late father, Idrissa Timta who was assassinated by Boko Haram in May, 2014 on his way to attend funeral ceremony of the late emir of Gombe State.
He lamented that no traditional ruler would like to stay away for a long time from his domain together with his over 300,000 subjects displaced, but as Allah (God) had destined it, he had no excuse.
According to him, those agitating for return of IDPs to their communities, especially those from Gwoza were only doing so to expose the already traumatized people to further attacks.
The Traditional ruler revealed that last week, before proceeding to Gwoza with the Deputy Governor, Alhaji Usman Durkwa, he was among those who on that same day accompanied the two emirs of Askira and Uba who recently relocated back to their domain after spending two years in Maiduguri. Regretting that the level of destruction of lives and properties in Gwoza alone, was far more than what obtainable in neighbouring Askira and Uba, now free from Boko Haram occupation.