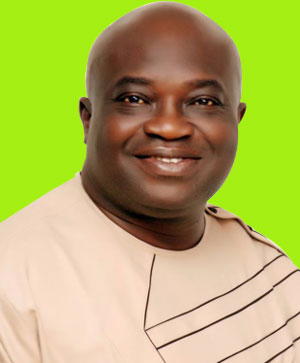 Gov. Okezie Ikpeazu
Governor Okejie Ikpeazu of Abia State has declared Friday and Monday public holidays.
The administration said the public holidays were to honour Chief Ojo Maduekwe, who died on Wednesday.
This came as the Abia chapter of the Peoples Democratic Party (PDP) has declared that it will resist any attempt to inaugurate, Dr. Uche Ogah, as the new governor of the state.
Abia PDP vows to resist Ogah's inauguration as governor
The Abia Peoples Democratic Party (PDP) chapter in its resolution and declaration at end of its emergency meeting in Umuahia on Thursday declared that it will resist any attempt to inaugurate, Dr. Uche Ogah, as the new governor of the state.
The state Chairman of the party, Chief Johnson Onuigbo, accompanied by members of the executive committee, said that the party got wind of a plan to flood the state with military personnel.
Onuigbo said that such an invasion would trigger off anarchy, adding that the party was poised for a showdown over the planned inauguration.
He described the judgment of the Federal High Court, Abuja, which ordered that Ogah should be sworn in was "a rape of democracy."
The court, presided over by Justice Okon Abang, on Tuesday ordered Gov. Okezie Ikpeazu to vacate office as governor over the case of tax evasion.
Abang also ordered that Ogah, who came second in the PDP primaries,should be sworn in as the governor.
Ogah was also issued the Certificate-of-Return by the Independent National Electoral Commission (INEC) in Abuja on Thursday.
The PDP chairman, however, said that the judgment and issuance of Certificate-of-Return to Ogah had undermined the peace and tranquillity enjoyed in the state.
"Abia is not safe. I didn't want to believe the rumour that the state will soon be invaded by the army because this is not a war zone.
"We want to inform the world that there is tension in Abia because democracy is about to be raped.
"As a party, we will resist any move by anybody to undermine the peace in the state," Onuigbo said.
He said that as a law-abiding state, the government had obtained an exparte injunction "restraining the state Chief Judge or any other judges from swearing in Ogah as governor".
"We are ready for them, we are ready to die," he said, adding, "If they do it, then they are inviting anarchy and confusion in the state.
"We are in a democracy so we want the world to hear and know that we are being shortchanged in Abia," he said.
Onuigbo said that the party had sent emisaries to Ogah to persuade him "to sheath his sword and allow peace to reign in Abia", to no avail.
He said that at the end of the current crisis, the party would met out sanction to Ogah for disregarding entreaties from the chieftains of the party.